Nokia is rolling out a new software update for its Asha touchscreen phones, bringing new functionality and improvements.
The Finnish giant announced the latest software update for Nokia Asha touch devices on its official Conversations blog and noted that the update is currently rolling out.
Further, Nokia confirmed that the update is available for both the single and dual-SIM variants of the following Asha devices - Asha 230, Asha 500, Asha 501, Asha 502 and Asha 503.
The software update adds several new features including push notifications, which has been missing in the Asha phone line-up, and an updated Fastlane, which now shows the notifications from the social platform such as, re-tweets and Facebook likes.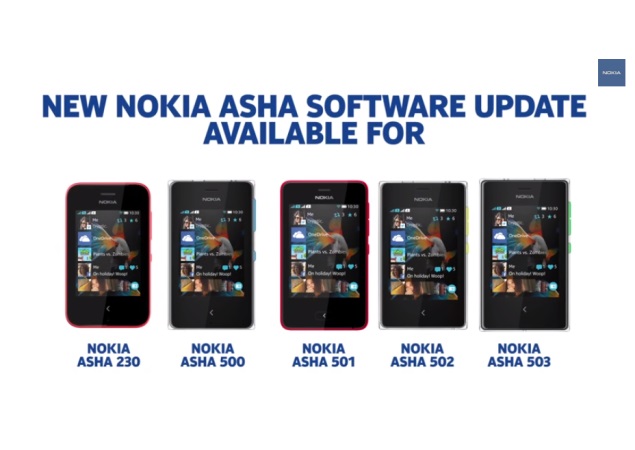 Other enhancements include voice guided selfie shots and panorama modes in camera app; users' can now upload a clicked image to the personal gallery on Microsoft's OneDrive (7GB of free storage); a power save mode for battery durability; performance improvements; improved video stabilisation and parental control for the browser and Nokia Store access.
The latest Asha software update also brings Nokia's MixRadio, the free and personalised music streaming service. The official blog post notes that the Nokia MicRadio is not available for the Nokia Asha 230.
Earlier, Nokia quietly launched the Nokia 230 Dual SIM budget phone in India at Rs. 3,449.
The Nokia Asha 230 features a 2.8-inch QVGA (240x320 pixels) display and supports up to 32GB microSD card. It sports a 1.3-megapixel rear camera.
The Asha 230 Dual SIM packs a 1020mAh battery, which is rated to deliver up to 12 hours of talktime and up to 21 days of standby time.
Connectivity options include Bluetooth, Micro-USB and GPRS. The Asha 230 does not support 3G connectivity. It measures 99.5x58.6x13.2mm and weighs 89 grams. The Asha 230 Dual SIM comes in six colour options: Bright Red, Bright Green, Black, Cyan, White, and Yellow.