Two of Nokia's rumoured feature phones, the Asha 502 and Asha 503, have been leaked again on the Internet revealing pricing, specifications and availability details.
According to Nokia Power User, the alleged Nokia Asha 502 was listed on Tmall online store, which is also Nokia's official Internet marketplace for the Chinese market, along with a price. As per the purported listing, the alleged Nokia Asha 502 comes at 749 Yuan which translates to roughly Rs. 7,555.
Further, the report suggests that the Asha 503 will come at $110 (Rs. 6,700 approximately) and will be available globally by December 2013. The report also claims that the Nokia Asha 503 will be announced on October 22, in-line with our previous reports.
The listing also reveals specifications of the alleged Nokia Asha 502 and Asha 503, which are said to come with identical hardware, excluding the Nokia Asha 503 will support 3G networks.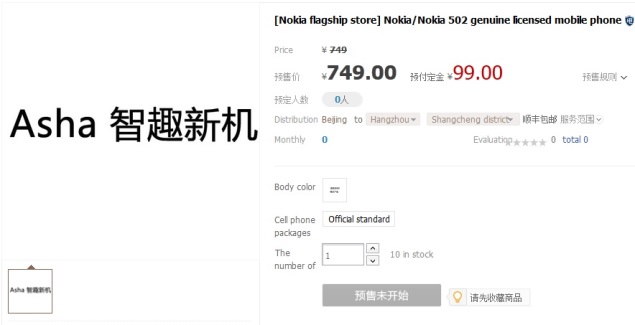 The leaked specifications of the Nokia Asha 502 and 503 include 3.2-inch LCD display with 240x320 pixels resolution; 5-megapixel rear camera with flash; 3G and Wi-Fi support; microSD card slot (expandable up to 32GB) and a 1200 mAh battery. The listing also reveals that both the devices will come in two variants - single SIM and dual-SIM - and that both the devices will support micro-SIM instead of the regular SIM.
Earlier on Monday, the Nokia Lumia 1520 accidentally went 'official' in Chinese online store listing with price. The accidental listing of the alleged Lumia 1520 confirms that the device would come at 4,999 Yuan or $820 which is roughly Rs. 50,200. The listing also conforms some of the specifications which include a 6-inch display with a resolution of 1080x1920 pixels, a quad-core Qualcomm Snapdragon 800 processor, and the popular PureView camera boasting of a 20.7-megapixel sensor.
Meanwhile, Nokia is all set to unveil new devices at its October 22 Nokia World event, due to be held in Abu Dhabi.