Nokia has decided to add full-touch handsets in its feature-phone line-up Asha. The touch device range includes Asha 305, 306, and 311 phones, which have 3-inch touchscreen display and run on Asha Touch user interface.
Nokia Asha range was first introduced in October last year and includes 10 models, which are available in over 130 countries right now.
The Nokia Asha 305, Asha 306 and Asha 311 offer a fully re-designed touch user interface, and are targeted at young urban buyers. Consumers will have access to 10,000 web apps as well as 25,000 regular apps via Nokia store on the new phones.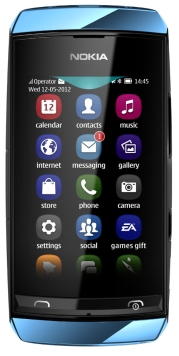 Asha touch phones also feature an updated web browser, which on the lines of Opera Mini, reduces data usage by up to 90%. This is not all, as the phones also come with 40 free games from EA including Tetris, Bejeweled, Need for Speed - The Run and EA SPORTS FIFA 1.
Coming to the specific phones, Nokia Asha 305 and the Nokia Asha 306 feature 3.0-inch WQVGA resistive touch screen, 2MP camera, GPRS, and Edge connectivity. Nokia Asha 305 also comes with dual-SIM support.
On the other hand, Nokia Asha 311 comes with 3.0-inch scratch resistant, capacitive glass screen, 3.2 MP camera, 1GHz processor and HSPA connectivity.
The estimated retail price for Nokia Asha 305 is EUR 63 and it's expected to start shipping in the second quarter of 2012. Nokia Asha 306 and Asha 311 will be sold for EUR 68 and EUR 92 respectively. Both devices are expected to start shipping in the third quarter of 2012.
Key Specs
Nokia Asha 311
3.0" scratch resistant, capacitive glass screen
Polarised display filters for better usability in direct sunlight
WLAN
3.2 MP camera
1GHz processor
Music Player, FM Radio and Internet Radio
Plug and Play, easy PC connection and file transfer
HSPA connectivity
Nokia Maps and Nokia Life (in selected markets)
Colours: Dark Grey, Rose Red, Blue, Brown and Sand White (colours will vary by market)
Nokia Asha 305 and Asha 306
3.0" WQVGA resistive touch screen
2 MP camera
Music player and FM radio
Built-in speaker
Plug and Play, easy PC connection and file transfer
GPRS/EDGE connectivity
Nokia Maps and Nokia Life (in selected markets)
Colours: Silver White, Red, Mid Blue and Dark Grey (varies by market)