Microsoft on Monday has announced two new basic phones, the Nokia 130 and Nokia 130 Dual SIM, with a suggest price of EUR 19 (approximately Rs. 1,550). Both the phones will be made available in this quarter by the company.
Other than the different number of SIM card slots supported by the Nokia 130 and Nokia 130 Dual SIM, both models come with identical specifications and run Nokia OS Series 30+ out-of-the-box. The smartphones feature a 1.8-inch QQVGA (128x168 pixels) 16-bit LCD colour display that offers 114ppi.
The 1020mAh battery capacity for Nokia 130 and Nokia 130 Dual SIM offers standby time of up to 36 days and 26 days respectively. With physical keypad and 4-way navigation key, as well as a flashlight, both Nokia 130 phones come with built-in video player, MP3 player and FM radio.
The phone additionally supports storage expansion up to 32GB via microSD card. While both Nokia 130 and Nokia 130 Dual SIM measure 106x45.5x13.9 mm, they weigh 68.6 grams and 67.9 grams respectively. Connectivity options for Nokia 130 phones include 2G network support, Bluetooth 3.0 (with Nokia's Slam technology) and Micro-USB for connection and charging.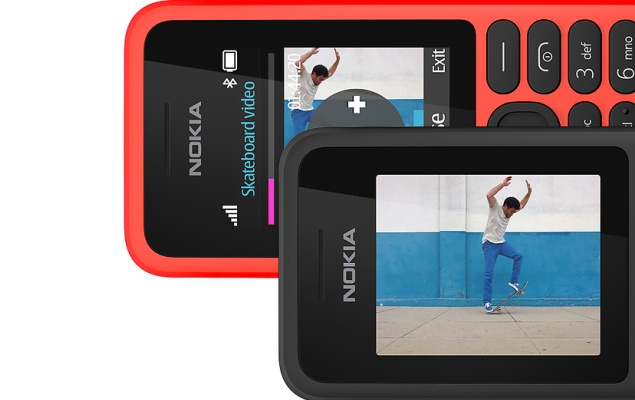 The launch of the new basic phones come as a surprise to us, as last month only, the Redmond giant along with the discontinuation of the Nokia X series of Android smartphones announced its decision to abandon Nokia's Asha and Series 40 phones.
However, the company now seems to have different approach towards Nokia's feature phones, as Jo Harlow, Corporate Vice President of Microsoft Devices Group, speaking to Recode said that the company is committed to this part of the business for the long term. With the Internet-connected phones like Nokia 130 and Nokia 130 Dual SIM, Harlow suggests that the company can utilise and introduce services like Bing and OneDrive to more customers.
"Microsoft doesn't have any other project that can reach these consumers," Harlow said. "These consumers will create a Microsoft account and become part of the Microsoft ecosystem."