We already know that
Google Nexus 5's
successor, as per Sundar Pichai, would arrive in the
second half of 2014
. However, a new leak tip that we might see two Nexus models - the Nexus 6 smartphone and the Nexus 8 tablet - introduced this year.
Hints of the two alleged Nexus models were spotted in the Chromium code review by Florian Kiersch and Carsten Knobloch, who are German developers. The Chromium code lists the names of both the devices (Nexus 6 and Nexus 8).
Unfortunately, the Chromium code review listing of the alleged Nexus 6 and Nexus 8 does not reveal any details of the yet-to-be-announced devices. However, it does indicate that Google might officially unveil these devices as Nexus 6 and Nexus 8.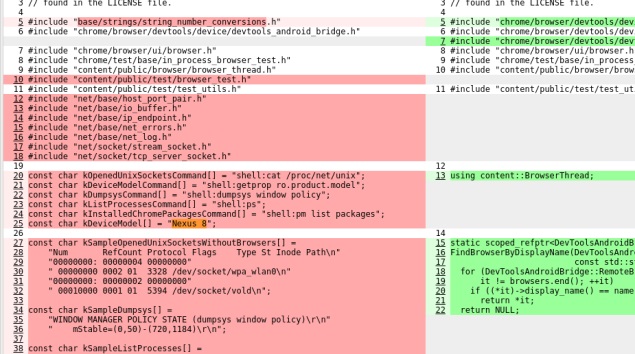 Google's Nexus devices have been the reference devices for its operating system, reflecting the company's own design philosophies. For consumers', the Nexus devices offer the pure 'stock' Android experience as they're untouched by any additional customisation from the side of operators and OEMs.
But the most important reason why some consider the Nexus devices better than others is that they are the first to receive Android updates.
Recent reports have indicated the next Google Nexus smartphone might be based on the yet-to-be-launched LG G3 handset. Further leaks suggest that the alleged Nexus 6 might sport a fingerprint scanner as well, following in the footsteps of the Apple iPhone 5s and Samsung Galaxy S5.
Prior to this, a report claimed that Google might launch a new low-budget Nexus smartphone powered by a MediaTek chipset, priced as low as $100 (roughly Rs. 6,000).
The Nexus 8 tablet has also been rumoured to be built by HTC, the Taiwanese smartphone giant, and hit store shelves by Q3. The HTC-made Google Nexus 8 tablet could also feature a 'high performance' 8.9-inch display, in an attempt to compete with Amazon's Kindle range and Apple's iPad Mini.
For the latest tech news and reviews, follow Gadgets 360 on Twitter, Facebook, and Google News. For the latest videos on gadgets and tech, subscribe to our YouTube channel.
Related Stories