Google has announced that it is cutting the price of the
Nexus 4
smartphone.
The Nexus 4 is now available at a discount of about 25 percent which means that the 8GB variant will sell on Google Play Store for $199 while the 16GB variant will be available for $249.
The discount is reportedly being offered in selective markets that include the US, UK, Canada, Germany, Spain, Korea and Australia. The search giant announced the discount via its official Twitter handle.
The tweet said, "We've lowered the price of #Nexus4. Get it for 25% off or more in Australia, Canada, Germany, Spain, Korea, US, UK.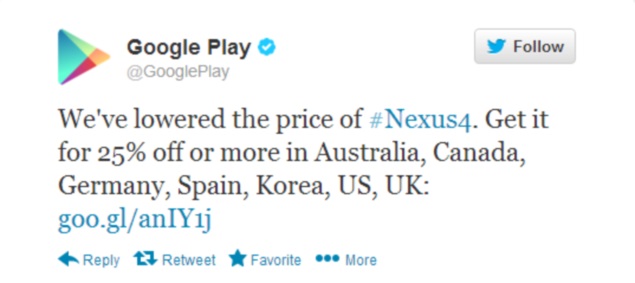 This is the first time Google has revised the prices of the Nexus 4 which was being offered at a price of $299 for the 8GB variant and $349 for the 16GB variant since its arrival on the Google Play Store in November 2012.
The price cut can be expected to be an attempt to boost sales ahead of Apple's announcement of the new iPhone 5C, which is rumoured to be a low cost version of the iPhone that will compete against Android smartphones like Nexus 4. It could also be an exercise to clear old stock as Google gears up to unveil the next generation Nexus smartphone.
Apple is expected to unveil the iPhone 5C along with the iPhone 5S, the next generation iPhone, on September 10 at an event in San Francisco.
Moreover, the price slash comes at a time amidst several rumours around possible Nexus 4 successors. Recently, a rumour claimed that the next iteration of the Nexus phone, will be unveiled later this year and Google owned Motorola will be working on the device. The rumour came from Taylor Wimberly, a technology journalist. However, nothing has been confirmed by the search engine giant, yet.