Multi-window support has been one of the features that have been missing from Google's stock Android versions; though OEMs such as Samsung had the feature for a while now. It seems
Google
is all set to acknowledge this in its next Android build, hints a framework code commit in the
Android
Open Source Project (AOSP) source code.
The AOSP framework code commit (via Phandroid) includes references to "multiwindow" support; though details about the functionality are limited. Going by what's visible in the AOSP source code, multi-window support is disabled and is likely to be enabled alongside the next major Android build release. Notably, the codes from AOSP are dated from January 27 and are being managed by Craig Mautner, who is currently Senior Software Engineer at Google. We can expect more details about the multi-window support for Android to emerge doing Google's I/O event scheduled for May.
For the uninitiated, multi-window support lets users perform multiple tasks on one screen, such as taking notes or browsing the Web while watching a video.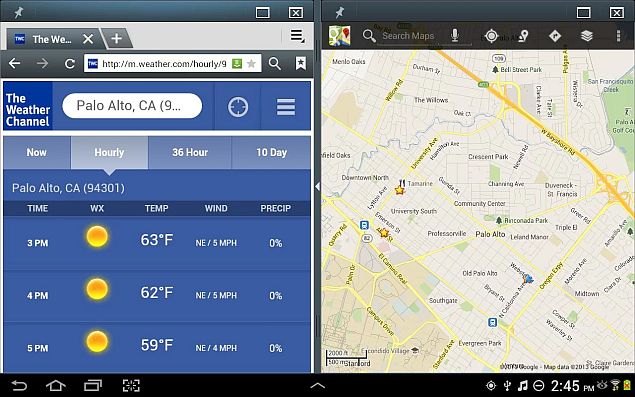 Google earlier this week announced the Android 5.1 Lollipop update, the first major update to Android Lollipop. The company introduced some features such as support for multiple SIM cards, Device Protection and HD voice for compatible devices with the update. The multiple SIM support seems to be primarily targeted at Android One devices.
The built-in Device Protection makes sure the device is locked when lost or stolen, until signed-in using a Google account. It's worth noting that the Device Protection once enabled requires a Google account sign-in even if someone resets the device to factory settings. The Android 5.1 Lollipop update also brings high definition voice calling on the mobile phone. The HD voice calling will be available only on compatible Android 5.1 devices.
Soon after announcing the Android 5.1 update, Google started pushing Android 5.1 factory images for Nexus devices. Google, apart from factory images, also started uploading source code to the Android Open Source Project (AOSP).
For the latest tech news and reviews, follow Gadgets 360 on Twitter, Facebook, and Google News. For the latest videos on gadgets and tech, subscribe to our YouTube channel.
Related Stories