Motorola has sent out invites for an event on July 28, seemingly confirming
recent reports
that tipped the company would launch its new
Moto G (Gen 3)
and
Moto X (Gen 3)
smartphones on that date.
The Lenovo-owned company has sent out invites for an event in New Delhi (seen above), as well as events in London, New York, and Sao Paulo.
It appears as if the India event will be the first to be held on that day, with our invitation reading 3:30pm IST. The Sao Paulo and New York events are scheduled for 10am BRT (which is 6:30pm IST) and 9am ET (which is 6:30pm IST) respectively, while the London event is scheduled for 2pm BST (which is also 6:30pm IST).
Motorola
has also launched a
micro-site
for the event, which features this text, "Yes. We're in a relationship with our phone... We feel lost without it. We trust them with our most personal questions, photos, stories and secrets. They never leave our side. But shouldn't all that care and devotion you show be returned? A better mobile relationship is on its way. Join us on 7.28.15 to find out how we are changing things for the better."
Invites shared for London, New York, and Sao Paulo events feature slightly different text, with the English versions reading, "Your relationship status is about to change. XGX, Moto."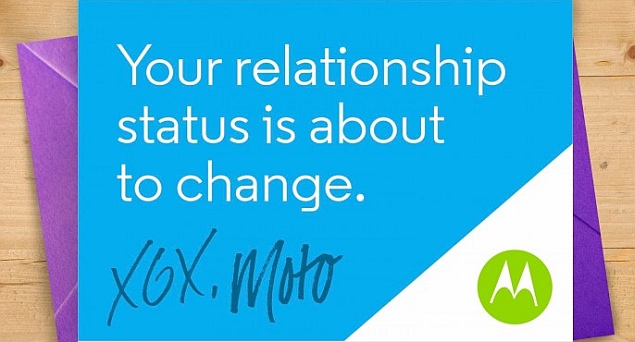 The India invite continues along the same relationship vein, saying, "A good friend will offer you their umbrella when it rains. A best friend will forever be ready to dance in the rain with you."
Reading between the lines, it seems obvious that Motorola is about to launch new mobile products that will change the relationship users have with their phones. Just how these tie in with the
rumoured specifications
leaked
thus far
for the Moto X (2015) and Moto G (2015) remains to be seen, with nothing so far tipping relationship building feature.