Motorola introduced the Moto Mods ecosystem alongside the Moto Z and [Moto Z Force] (https://gadgets.ndtv.com/motorola-moto-z-force-3563) at the Lenovo Tech World event in Silicon Valley. The Moto Mods are modular backplates that add utility to the smartphone, and the first ones introduced include the Insta-share projector Moto Mod, JBL SoundBoost Moto Mod, and the Power Pack Moto Mod. The prices of the Moto Mods were not revealed at the event, but now Motorola has listed the backplates on the MyVerizon app revealing the prices.
A Reddit user came across these prices, and turns out the Moto Mods are quite expensive. The Insta-Share Projector Moto Mod will set you back for as much as $299 (roughly Rs. 20,100), while the JBL SoundBoost Moto Mod will cost relatively cheaper at $79 (roughly Rs. 5,400). The TUMI Power Pack Moto Mod, and the Wireless Charging Power Pack Moto Mod costs $89 (roughly Rs. 6,000) and $99 (roughly Rs. 6,600) respectively. There's also one Kate Spade Style Shell Mod that costs $79 (roughly Rs. 5,400). Other Style Shell Mods were not listed on the platform.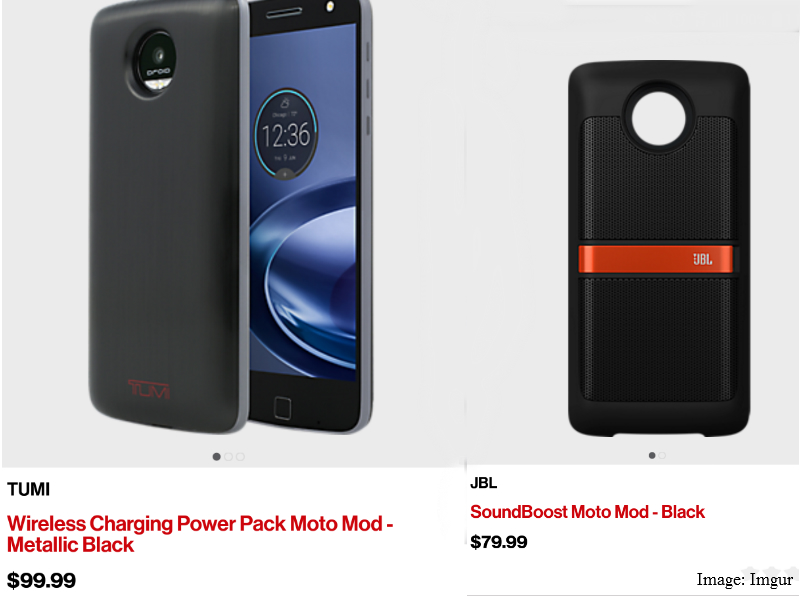 The price of the Moto Z and Moto Z Force have not yet been revealed, and is expected to hit markets sometime in September. Traditionally, Motorola is known for keeping its prices competitive, but the same philosophy hasn't been applied with the Moto Mods. It remains to be seen whether these backplates are compelling enough for consumers to shell out that much money. It's also worthy to note these might just be pre-release pricing, with carrier mark-up.
In any case, the Moto Mods will connect to the 16 connection pins at the rear of the Moto Z and the Moto Z Force. The Insta-Share Projector Moto Mod is meant to deliver a 70-inch projector experience, while the Power Pack Moto Mod is said to provide 22 hours of additional battery life. The JBL SoundBoost MotoMod brings two 3W speakers at the rear. Style Shells will offer finishes like real wood, leather, and fabric.
Motorola will also sell the Moto Mods developer kit to third parties on its website. Third party developers and companies can then take advantage of this, and make their own backplates providing different utilities.
For the latest tech news and reviews, follow Gadgets 360 on Twitter, Facebook, and Google News. For the latest videos on gadgets and tech, subscribe to our YouTube channel.
Related Stories