Motorola's long-rumoured third-generation Moto G and Moto X models have been leaked in fresh live images, ahead of the company's expected launch of the devices at its July 28 event.
The new leaked live images purportedly show the Motorola Moto G (Gen 3) with its screen turned on and displaying the Settings page. The leaked image shows the model number of the handset as XT1542. The other leaked image shows the rear of the handset featuring an LG-like strip near the rear camera. The vertical silver strip, as previously seen, houses the rear camera at one end and the Motorola logo at the other.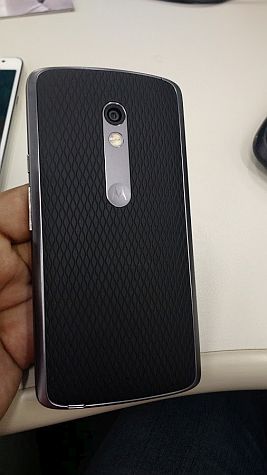 The new images comes courtesy Motorola Fans, which shared four images of the unannounced Moto G (Gen 3) on Facebook, and claimed it was a testing model.
In another leak, Motorola's Moto X (Gen 3) was leaked by a Google+ user and was also claimed to be a testing unit. In the leaked image, the textured rear of the handset is visible with a LG-like strip near the rear camera, similar to the Moto G (Gen 3). Looking at the new leaked image of the Moto X (Gen 3), it looks like Motorola has gone back to its drawing board for the handset. Unfortunately, there no image of the screen of the handset was shared.
Based on preliminary leaks, the Moto G (Gen 3) is said to be priced at BRL 899 (approximately Rs. 18,000) and feature a 5-inch HD (720x1280 pixels) display; a quad-core Qualcomm Snapdragon 410 processor clocked at 1.4GHz; an Adreno 306; 8GB and 16GB storage options with microSD card support; a 2470mAh battery; a 13-megapixel rear camera; a 5-megapixel front camera, Android 5.1.1 Lollipop, and IPX7 certification. A report even claimed that the Moto G (Gen 3) will come in two variants: 8GB inbuilt storage with 1GB of RAM, and 16GB storage with 2GB of RAM.
The Moto X (Gen 3), on the hand, is said to feature a 5.64-inch QHD (1440x2560 pixels) resolution display; run Android 5.1.1 Lollipop, and be powered by a Snapdragon processor clubbed with a 3GB RAM. Other leaked details tip that the handset will feature 32GB of inbuilt storage and USB Type-C support
Late on Thursday, Motorola started sending invites for an event on July 28, seemingly confirming recent reports that tipped the company would launch its new Moto G (Gen 3) and Moto X (Gen 3) smartphones on that date. The Lenovo-owned company sent out invites for an event in New Delhi, as well as events in London, New York, and Sao Paulo.