Motorola, besides unveiling its much-awaited Moto G (Gen-2), Moto X (Gen-2) and Moto 360 smartwatch, also took the wraps off two new smartphone accessories - namely Moto Hint (a Bluetooth-enabled earbud) and the Power Pack Micro (a power bank).
(Also See: Moto G (Gen 2) With 5-Inch HD Display Launched in India at Rs. 12,999)
Set to hit shelves in the US by this fall, followed by other regions by the end of this year, the Moto Hint is priced at $149.99 (roughly Rs. 9,000), while the Power Pack Micro is already available to buy for $39.99 (roughly Rs. 2,400) in the region.
Compatible with Bluetooth-enabled smartphones, the Moto Hint wireless earbud lets users hear notifications, make calls, get directions, perform quick search, and send messages without accessing the handset. In addition, the Moto Hint uses an IR proximity sensor on its inner side to turns off automatically when the user takes off the device. The calls are then routed back on the user's smartphone.
(Also See: Moto X (Gen 2) Unveiled With 5.2-Inch Display and Snapdragon 801 SoC)
The Moto Hint also features a 'passthrough' audio technology, that lets users hear outside noise without any blockage. In addition, the device is accompanied with a charging case. Once fully charged, the Bluetooth 3.0-enabled earbud can deliver up to 10 hours of talk time and 100 hours of standby time. Moto Hint comes in six different colour variants.
Also announced in the event was the Motorola's Power Pack Micro. The device, while acting as a portable battery, also lets users search for their smartphone or keys by using the Motorola Keylink feature. The device uses Motorola Connect app and alerts the users as to when their smartphones need to be charged. The Power Pack Micro not only charges Motorola smartphones, but any other Micro-USB supporting device for that matter.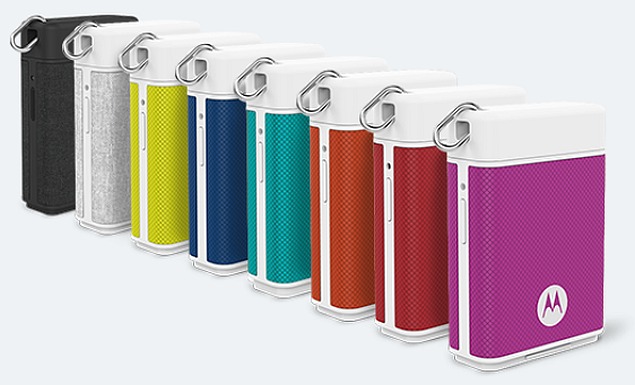 Available in Dark Canvas, Light Canvas, Spice, Red, Violet, Lemon Lime, Turquoise, Royal Blue, the Power Pack Micro measures 41x17x60mm, weighs 48.1 grams and comes with a battery capacity of 1500mAh.