Motorola Droid Turbo could be announced on Tuesday with Verizon's dedicated Droid Does
website
sporting a countdown with a tagline that says, "Droid launch set. All will be revealed." The timer is counting down to 12 noon IST on Tuesday with text "Droid launch date set. All will be revealed. Sign up for activation notification." on the page.
Further, a new leak tips the yet-to-be-announced Droid Turbo smartphone will go on sale starting Thursday. Additionally, a bunch of leaked images purportedly showing the retail packaging of the Droid Turbo has surfaced online alongside expected pricing of the handset.
According to Moto Firmware, the unannounced Motorola Droid Turbo handset is in stock with retail stores and will go on sale starting Thursday. @MotoFirmware tweeted "The Droid Turbo will launch on October 30th per our source. Also retail stores already have them in stock. Thank you for the catch."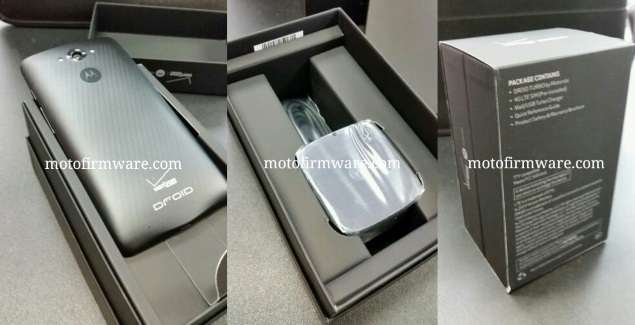 Motorola Droid Turbo smartphone is said to be priced at $599 (Rs. 36,650 approximately) for the unlocked model or $199 with a 2-year contract, as per Droid Life.
The tipster named Moto Firmware also posted a bunch of leaked images that showed the Droid Turbo will include Motorola's Turbo charger in the box. The leaked images also show that the handset will come with 4G LTE support and will sport dual-LED flash, as rumoured previously.
Rumoured specifications of the Motorola Droid Turbo handset include a 5.2-inch QHD (1440x2560 pixels) resolution display, a Snapdragon 805 processor, 3GB of RAM, 32GB inbuilt storage, 21-megapixel rear camera with dual-LED flash, 3900mAh battery, and Qi wireless charging compatibility with support for Motorola's Turbo Charger.
The Motorola Droid Turbo is also said to sport a body that can resist everyday spills and survive up to 20 minutes in a downpour. Other features like Moto Actions, Moto Display and Moto Connect are also tipped to be included in the new Droid smartphone. Besides 4G LTE, the Droid Turbo was previously also tipped to feature Bluetooth, NFC, Wi-Fi and GPS connectivity options.