Motorola and Verizon have already confirmed the
October 27 event
where both the companies are expected to showcase the "newest Droids" - widely rumoured to be the Droid Turbo 2 and Droid Maxx 2 smartphones. Now, more details regarding the new Droids have emerged thanks to newly-leaked promotional material.
First reported by Droid Life, the leaked promotional materials show how Motorola and Verizon plan to advertise the phones in the US. In one of the leaked promotional posters, the Droid Turbo 2 is said to feature a "shatterproof screen," corroborating previous leaks for the Moto X Force or Moto Bounce. Unfortunately, there is no official word from the company on what 'shatterproof' actually means; though it could indicate a MIL-STD rating.
Furthermore, Verizon is likely to give away the Motorola Droid Turbo 2 with attractive exchange offers which will let consumers' trade in their old smartphones, even with cracked screen, for up to $300 towards the purchase of the Droid Turbo 2.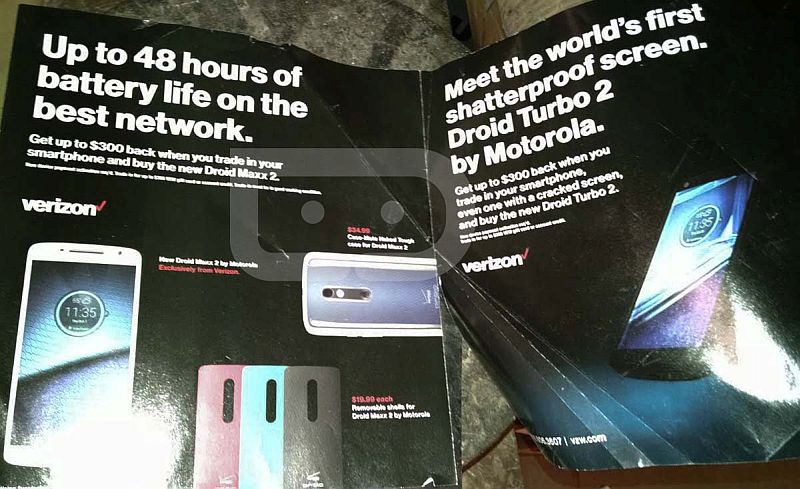 The smartphone is also likely to come with Moto Maker customisation support, much like other Motorola handsets. In one of the leaked promotional images, the Moto Droid Turbo 2 is said to be available in leather and ballistic nylon combinations. The company on top of all this is also expected to offer one free customisation to consumers who buy a 64GB model.
For the Droid Maxx 2, the company is seen pushing the handset as a smartphone that can offer up to 48 hours of battery life. The Motorola Droid Maxx 2, is likely a Moto X Play variant for the US market, will also come with replaceable back shells. Similar to the Droid Turbo 2, the company will give consumers exchange of $300 for an old handset towards the purchase of Droid Maxx 2 smartphone.
We will have to still wait till October 27 to see what are Motorola and Verizon planning to show at the launch event.
For the latest tech news and reviews, follow Gadgets 360 on Twitter, Facebook, and Google News. For the latest videos on gadgets and tech, subscribe to our YouTube channel.
Related Stories