Lenovo is set to take centre stage at the Tech World event in San Francisco in a few hours. The keynote will flag off at 10am PST (10.30pm IST) where the company is expected to unveil a host of goodies. The biggest among them is Lenovo-owned Motorola's new flagship smartphone, the Moto Z.
Motorola is expected to ditch the flagship 'X' series altogether, and adopt the new 'Z' branding. A lot about the Moto Z has already been leaked, and here's a comprehensive look at all the things we know so far.
Two variants
The smartphone is pegged to come in two variants namely Moto Z (aka Moto Z Style) and Moto Z Play While the premium variant will be the Moto Z, there are rumours of a slightly less specced variant as well.
Specifications
Rumoured specifications of the Moto Z include a 5.5-inch QHD display, a Snapdragon 820 processor, 3GB or 4GB of RAM, a 16-megapixel rear camera, 32GB of inbuilt storage, 2600mAh battery, and 5.2mm thickness. While the Moto Z Play is expected to sport a 5.5-inch full-HD display, a Snapdragon 625 SoC, 2GB of RAM, a 13-megapixel rear camera, 16GB and 32GB storage variants, 3500mAh battery, and 7mm thickness.
MotoMods
Motorola is possibly introducing 16 connector pins at the back, where modular backplates can then be attached for added utility. Calling it MotoMods, these backplates are expected to offer - a battery pack, a rugged cover fitted with a wide-angle lens, a camera-style grip complete with a flash module and optical zoom, a stereo speaker setup, and a pico projector. A new leaked teaser image(via Android Pure)reveals that the MotoMod could bring as much as 10xoptical zoom to the smartphone once connected to the back.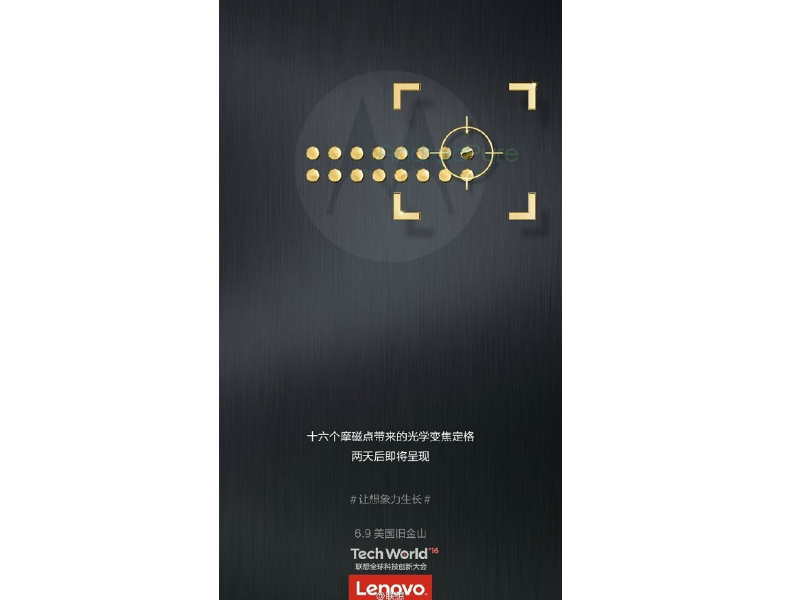 StyleMods
Apart from the MotoMods, there's also been a leak which points to Style Mods. These are basically cool back covers for the smartphone to hide the pins, when the MotoMods are not in use. There is an expected nylon variant, two wooden options, and two leather options.
Three colour variants
A teaser leaked yesterday showed the Moto Z from the side boasting of its slim form factor. The image also had rose gold, and gold trokes across the smartphone, hinting that the Moto Z may come in three colour options - Rose Gold, Gold, and silver.
No Moto Razr launch
There were also rumours of a flip phone following a nostalgic teaser by the company, but Motorola has now denied that it is bringing back its Razr series (via mobilissimo.ro).
Possible Moto E launch
Apart from the Moto Z, Motorola is also expected to unveil the Moto E (2016) budgeted smartphone in the market. The expected specs feature a 5-inch HD (1280x720 pixels) display, a MediaTek quad-core processor, 2GB of RAM, 16GB of storage, 7-megapixel rear facing camera, and a 4.7-megapixel front lens.
First consumer Project Tango smartphone
Furthermore, Lenovo will also unveil its first consumer Project Tango smartphone at the event, which will reportedly be called the Phab2 Pro. The smartphone will reportedly have three camera modules at the back, alongside a flash and a fingerprint sensor. Except for its large 6.4-inch display, not much is known about the device.
It is important to mention that all of these details are just based on leaks and speculations, and should be taken lightly. The official details are just a few hours away, where all the rumors will finally come to rest.