After launching the Motorola Moto X 64GB variant for $499 in June, the firm appears to be preparing to launch the second generation of its Moto G series, with a leaked image claimed to be of the handset along with some specifications making their online.
The image and specifications come from a Spanish website, Mellando no Android, and indicate the refreshed Moto G (which is expected to be called the Moto G2) to share the same design ethics like seen in Moto E. The handset in the purported Moto G2 image is seen with two front-facing speakers, and almost the same curved corners as the original - with sensors or camera in the top right corner.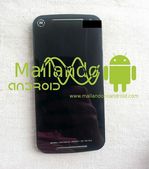 As for the leaked specifications, the yet-to-be-announced Moto G2 is said to be powered by a quad-core Qualcomm Snapdragon 400 processor paired with Adreno 305 GPU for handling smartphone graphics. Also noted are the 720p HD screen and dual-SIM support already seen on the Moto G, and an 8-megapixel camera instead of the 5-megapixel rear camera of the original.
Of course, so far, no confirmation has been made by Motorola about the Moto G2's pricing, specifications, and availability.
While we also have no word on the Moto G's Android OS version, it would appear that by the time the refreshed Moto G is released, it will probably carry the recently announced Android 'L' OS version onboard.
It is worth mentioning that earlier this month Motorola customer care had reportedly told users the firm will update the Moto X and Moto G devices to Android L once the OS is made available. However, the information about the Moto E smartphone remained undisclosed.
In July, Motorola India announced that it had started rolling-out the latest Android 4.4.4 KitKat update for its Moto E, Moto G and Moto X smartphones users in India.
For the latest tech news and reviews, follow Gadgets 360 on Twitter, Facebook, and Google News. For the latest videos on gadgets and tech, subscribe to our YouTube channel.
Related Stories