On Monday, we reported Motorola's
Moto G
was
listed as out-of-stock on Flipkart
, while its anticipated successor was allegedly spotted arriving in the country. Later on Monday however, a tipster has posted an image of the alleged box packaging of the Moto G's successor - claimed to have been shot at a Flipkart warehouse in Bangalore. Meanwhile, purported Brazil pricing of the anticipated
Moto G2
and
Moto X+1
handsets was also leaked.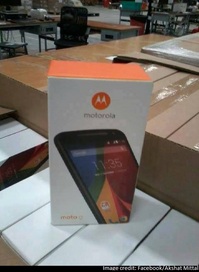 According to the Facebook user who posted an
image
of the alleged Moto G successor's box packaging, the much-awaited device will be called "just the Moto G or maybe 'New Moto G'", as evinced by the Moto G branding on the box. We cannot confirm the authenticity of the image, though if a previous leak is to be believed - the successor to the Moto G has already been shipped to India, with more than 70,000 'Motorola Moto G XT1068' units shipped to India on August 30 according to listings on Indian import/ export website Zauba.
The alleged Moto G2 units shipped from China to Bangalore were listed with a priced of Rs. 10,640 per unit on Zauba. Notably, the declared values for custom purposes are likely to differ substantially from actually market prices.
(Also see: Moto G Review | Pictures)
Of course, details about the pricing of the low-cost handset are eagerly anticipated, and a new report (via GSMArena) out of Brazil claims to confirm pricing of the unannounced Moto G2 and Moto X+1 handsets in that country. The Moto G2 is said to be priced at BRL 999 (approximately Rs. 26,900) and the Moto X+1 at BRL 1,499 (approximately Rs. 40,400). GSMArena notes that pricing in Brazil usually features a hefty markup as compared to most other nations, so if these prices are real - one can expected a substantial reduction for other countries.
The Brazilian report claims the Moto G2 was spotted at a retailer's inventory as the Motorola G2 XT1069 Colors, suggest that the device will probably feature different colour options (like its predecessor) and model names depending on the region. On the other hand, the anticipated Moto X+1 has been spotted listed as the Motorola X2 XT1097 Pto.
Both the devices are expected to be launched at the September 4 event in Chicago by Motorola. The Indian launch has been scheduled separately on September 5 in Delhi.
Affiliate links may be automatically generated - see our ethics statement for details.