After weeks of speculation, Motorola has officially unveiled the Moto G smartphone at an event in Sao Paulo, Brazil. The
Motorola Moto G
will be available in at least 30 countries with 60 Google partners by 2014.
The Google-owned handset maker has announced that the Moto G will be sold through the company's website in the US, with no contract, no SIM lock and an unlockable bootloader at $179 (Rs. 11,300 approximately) for the 8GB storage model, while the 16GB variant will be available at $199 (Rs. 12,600 approximately). Notably, there is no option for expandable storage available.

Motorola Moto G will be available in Brazil starting this week, and the smartphone will be released in Latin America, Europe, Canada and parts of Asia over the next few weeks. The company assured attendees of the conference that it was working with its partners to ensure the purchase cost to consumers remained as low as possible.

Interestingly, Motorola has finally confirmed that it will be re-entering the Indian market with the Moto G smartphone, with a launch in "early-January 2014". Other markets to get the Motorola Moto G in the same period include the US, the Middle East and more countries in Asia. Further, Motorola announced that Moto G will also be available in a dual-SIM variant, for select markets.
While announcing the Moto G, Dennis Woodside, Motorola's CEO, also contrasted the device with premium smartphones costing $600, and said, "Today, we're introducing Moto G, a smartphone that delivers a premium experience for a third of the price of current high-end phones."
Woodside, when speaking about the reason for making the Moto G, had mentioned that the global average price of a smartphone was $200, but for that amount, people had to either settle for some very basic specifications that robbed them of a complete smartphone experience, or, buy an older, obsolete version of a phone that was being sold for cheap. With the Moto G, the Google-owned mobile manufacturer wanted to offer modern specifications that gave customers a seamless smartphone and mobile Internet experience, at the $200 price point.

The Motorola Moto G runs Android 4.3 out-of-the-box and the Google-owned handset maker also 'guaranteed' that the smartphone will be getting the Android 4.4 KitKat by January 2014.
The Moto G features a 4.5-inch HD 'edge-to-edge' (for a supposed better touch experience) display with a resolution of 720x1280 pixels (translating to a pixel density of 329ppi) and a Corning Gorilla Glass 3 screen.

Powered by a quad-core 1.2GHz Qualcomm Snapdragon 400 (Cortex-A7)processor coupled with an Adreno 305 GPU, the Moto G features 1GB of RAM. With a demo on stage of a graphics intensive game, the company re-stressed that the Moto G is powerful enough to deliver a strong performance even on the most strenuous Android tasks.
On the optics front, the Moto G sports a 5-megapixel rear camera along with an LED flash and also includes a 1.3-megapixel front-facing camera. The rear camera supports HD (720p) video recording. The Motorola Moto G also features water-resistant nano-coating on the inside and outside.

The Moto G packs a 2070mAh battery, which Motorola claims can deliver up to 30 percent more talktime than the Apple iPhone 5s. The company really stressed on how it has worked to optimise battery life, making the Moto G last well over a day, which it claims to have achieved in part due to the software optimisation.

Motorola, in fact, went through great lengths during the conference to talk about the adverse impact custom skins and bloatware have on the Android experience, and surprisingly even named a few leading custom user interfaces, like Samsung's TouchWiz and HTC's Sense, despite these companies being major partners in Google's Android ecosystem (Samsung's Android smartphones, as we know, comprise a significant fraction of all Android smartphones being sold currently).
The software optimisation of Moto G apparently ensures no duplicate apps (such as more than one mail client or app store) are pre-installed with the Moto G, and that the most important tasks of a smartphone continued to function seamlessly. The company even made a comparison with the Samsung Galaxy S4, the Korean giant's current flagship, stating that in terms of the speed of booting up, and in making or taking phone calls, the Moto G outperformed the S4, providing some graphs on stage.

Another feature, FM radio, said by Motorola to be lacking in most top-end smartphones, was also included to ensure customers in emerging markets with spotty data connectivity could still be able to enjoy music and receive news.

The Moto G features a removable curved back panel (for better grip in-palm) and the company also announced accessories including 'Shells' and 'Flip Shells' (both in seven colour options), Grip Shells (in five colour options), and some music accessories like JBL wireless speakers for the device.

Motorola Moto G also comes with some proprietary features like Motorola Assist and Motorola Migrate. The company is also offering 65GB of free online Google Drive storage with the Moto G (50GB more than the standard 15GB Drive storage).
Refer to Motorola's blog post for more details, and do check out the video below, introducing the Moto G.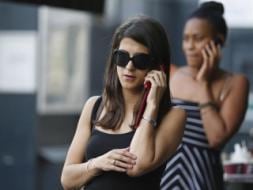 Mobiles launched in November 2013

Motorola Moto G key specifications

4.5-inch HD Corning Gorilla Glass 3 display with 720x1280 pixel resolution
1.2GHz quad-core Qualcomm Snapdragon 400 processor
Adreno 305 GPU

1GB of RAM
8GB and16GB storage variants, no expandable storage

Android 4.3 Jelly Bean (upgrade to v4.4 KitKat due in January 2014)

Dual-SIM variant (for select markets)
2070mAh battery

Wi-Fi, Bluetooth, 3G, GPS, A-GPS, GLONASS
143 grams weight

129.9 x 65.9 x 11.6 mm dimensions