While Windows Phone already offers the TellMe voice-based assistant, it's no where as close to Apple's Siri in terms of functionality and accuracy. However, it looks like Microsoft is working on a much advanced voice assistant app codenamed Cortana, after a character in the famous Halo series.
The development was first
reported
by Windows Phone Central and ZDNet's Mary Jo Foley who is known to be closely connected with Microsoft sources
confirms
that Microsoft is indeed working on Cortana and adds that Cortana will not just be an app that lets users interact with their phones using voice commands, but a 'core to the makeover of the entire "shell" -- the core services and experience -- of the future versions of Windows Phone, Windows and the Xbox One operating systems,' implying that a voice driven user experience would be an integral part of Microsoft's smartphone, desktop and gaming devices in the future.
The app made its first appearance when screen shots of an early Windows Phone build leaked online, listed as 'zCortana'. A new report by The Verge features more screenshots of Cortana which indicate that the service will offer weather information, notifications, and calendar, in addition to alarms and phone calls. The screenshots indicate that the app will be location-aware, as well.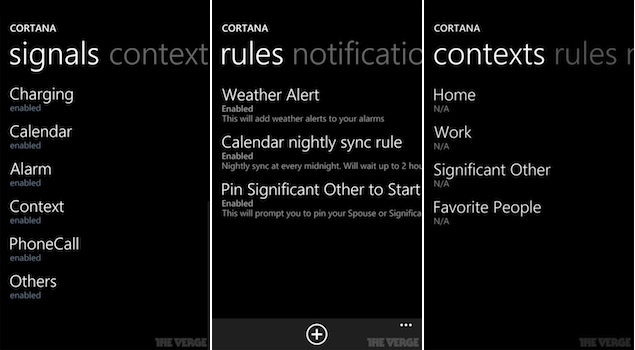 The ZDNet report also talks about Microsoft CEO Steve Ballmer's memo in which he hinted at Microsoft working on related devices powered by a 'service-enabled shell'. He said that the UI on these devices would be based on "advanced, almost magical, intelligence in our(Microsoft's) cloud that learns more and more over time about people and the world," and that the shell would come up with responses judging by the behaviour and usage of people. He also mentioned that the shell would exchange information across Microsoft's different services.
Microsoft's Bing team uses a technology called Satori (which means understanding in Japanese) which
collects
billions of pieces of information and understands how everything is related, similar to Google's Knowledge Graph. Microsoft is said to be integrating voice and Bing to power the user experience of its next-generation devices.
For the latest tech news and reviews, follow Gadgets 360 on Twitter, Facebook, and Google News. For the latest videos on gadgets and tech, subscribe to our YouTube channel.
Related Stories