Apart from
launching
the
Lumia 730 Dual SIM
,
Lumia 830
, and
Lumia 930
in India, Microsoft also launched the Screen Sharing (HD-10) accessory for Lumia phones, priced at Rs. 5,999. Exact availability
Initially announced at the sidelines of IFA in Berlin, the new HD-10 wireless display adapter accessory enable users to mirror their Lumia screens on a bigger screen, such as a television. The company had announced at the global launch that the device would be available by the end of September. Notably, the accessory is still listed as 'coming soon' on the company's India store.
The Microsoft Screen Sharing for Lumia Phones (HD-10) wireless display adapter can be connected to a large screen television via the HDMI cable and is powered by Micro-USB. It comes with a removable NFC disc through which it connects with the smartphone.
Notably, the new Screen Sharing device is compatible with Lumia smartphones with screen projection enabled, such as the Lumia 730, Lumia 735 and the Lumia 830. It uses the Miracast technology and will be available in White or Black.
The Microsoft Screen Sharing accessory is 21mm thick and 80mm in diameter, while weighing 115 grams. It can project up to 1080p resolution content and comes with LED indicators.
The Redmond giant at the IFA event had also unveiled wireless charging plates and wireless charging shells alongside the wireless display adapter.
The Nokia Wireless Charging Plate DT-903 and DT-601 were announced at $59 (roughly Rs. 3,500) and $39 (roughly Rs. 2,350), respectively. While the Wireless Charging Shell for the Lumia 735 was launched at EUR 14.90 (roughly Rs. 1,200).
Lastly, the Wireless Charging Flip Shell for Lumia 830, priced at EUR 24.90 (roughly Rs. 2,000), was also launched.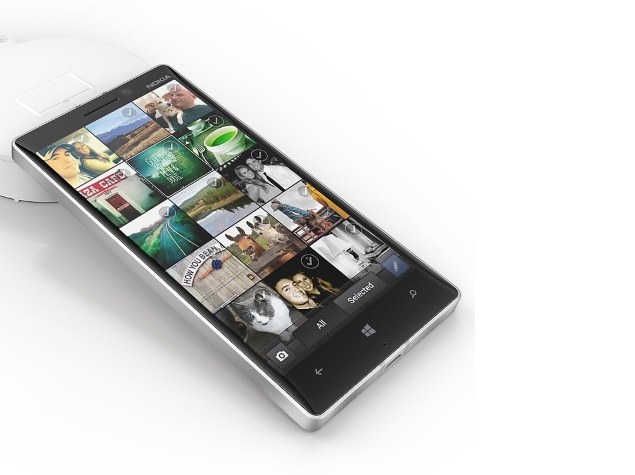 On Wednesday, Microsoft launched the Lumia 930, Lumia 830 and Lumia 730 Dual SIM in India, priced at Rs. 38,649, Rs. 28,799, and Rs. 15,299, respectively. The Lumia 930 will be available from October 15, while the other two will be available from October 8.