A new market research report has claimed that one in three smartphones sold in India were through online channels. The report by Counterpoint Research's Market Monitor service has also claimed that
Samsung
led the overall mobile phone market in India, as well as the smartphone segment, in Q3 2015.
The report added that Micromax's Yu Televentures subsidiary is selling more smartphones online than the popular Chinese handset brand, Xiaomi. Counterpoint Research has also detailed other statistics, such as how smartphones showed an impressive increase in shipments this quarter, with more than one in three mobile phones shipped being smartphones. The report also suggested that one in three smartphones bought in India during the period were via e-commerce websites such as Flipkart, Amazon, and Snapdeal.
Additionally, one in three smartphones were LTE-enabled smartphones. The Indian government's 'Make in India' campaign also saw results as the research suggested one in four mobile phones sold during the quarter was made in India.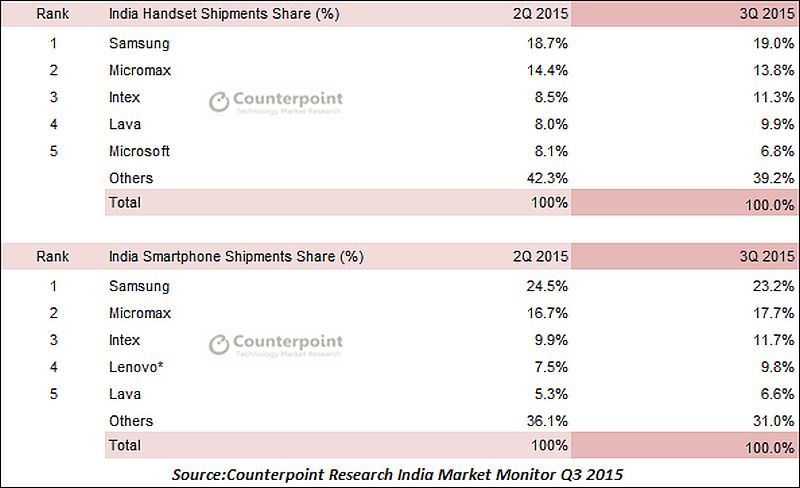 The Counterpoint report adds that Samsung ruled the overall mobile phone market and the smartphone segment during Q3, with a market share of 19 percent and 23.2 percent respectively. Micromax was at the second position in overall mobile phone market and the smartphone segment with a market share of 13.7 percent and 17.7 percent market share respectively.
The research added that Samsung gained from its mid-tier J series handset which drove its smartphone volumes. Though, the research noted that Samsung lost shares due to less number of smartphones in sub $100 segment.
Further, Intex maintained its position and remained at third position in both mobile phone market (11.3 percent) as well as smartphone segment (11.7 percent).
Lava (excluding Xolo) overtook Microsoft for the first time and captured fourth spot in the overall handset market (9.9 percent), but was in fifth place in the smartphone market (6.6 percent). Some of the handsets that drove demand for Lava were its Iris-range including the Iris Atom 2 andIris X1 Selfie smartphones. Lenovo combined with Motorola took fourth position in smartphone segment (9.3 percent). Counterpoint's Market Monitor research claimed that Lenovo's growth was driven by strong sales of its K3 Note smartphone. Microsoft rounded off the fifth place in the overall handset market, with a 6.8 percent share.
The report added, "Lenovo will need to realign its offline vs online strategy going forward to position the two brands separately and overlapping of SKUs across brands affects the operational performance which has been weakened since Motorola's acquisition."
One of the most interesting claims by Counterpoint Research's Market Monitor report shows that Xiaomi registered its first ever drop in smartphone shipments by up to 46 percent due to competition from Lenovo and Yu brands.
Apple, on the other hand, registered record shipments of 1.7 million units in India, driven by strong demand of the iPhone 6 series.