MediaTek on Tuesday expanded its Helio system-on-chip (SoC) series with the launch of the deca-core Helio X20 for smartphones and tablets. The Taiwan-based chipmaker launched the first Helio SoC at MWC this year, the
Helio X10
. The company confirmed that the Helio X20 with 10 processing cores will begin sampling in Q3 and can be expected to be available in consumer products by end of this year.
MediaTek claims that its new Helio X20 is the 'world's first mobile processor with tri-cluster CPU architecture' and features 10-cores. The Helio X20 is MediaTek's answer to Qualcomm's Snapdragon 800 series, which has been used on the majority of flagships launched this year, with the exception of Samsung's Galaxy S6 and Galaxy S6 Edge that use the South Korean firm's own Exynos 7 series of SoCs.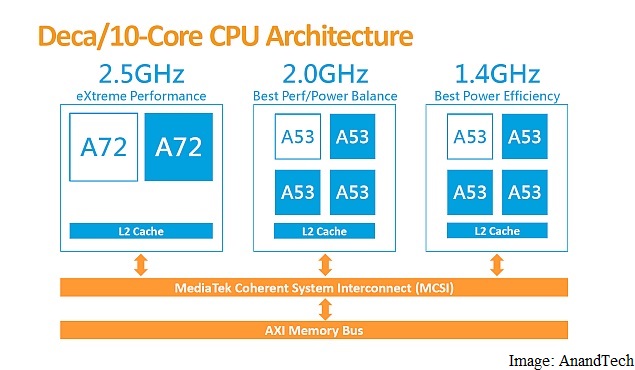 The tri-cluster CPU architecture consists of three processor clusters, with the company claiming that each is designed to more efficiently handle different types of workloads. The MediaTek Helio X20 packs one cluster of two ARM Cortex-A72 cores (clocked at 2.5GHz for extreme performance), and two clusters of four ARM Cortex-A53 cores (one cluster clocked at 2GHz for medium loads, one clocked at 1.4GHz for light activities).
MediaTek's dedicated Helio X20 page explains, "It can delegate simple tasks to one cluster of cores, while directing more-complex (and more-power-hungry) tasks to the other clusters. If the smartphone is doing only simple tasks - such as sending text messages or running the calculator - on one cluster, the other clusters can power down, and therefore drive smoother performance and extended battery life."
The new Helio X20 SoC features support for smartphone/ tablet displays with a refresh rate of 120Hz; and also brings support for 32-megapixel single camera with 24fps and 25-megapixel with 30fps; packs 3D depth engine built into hardware; includes new de-noise and demosaic hardware for improved image quality; supports 10-bit colour depth, and also supports both HEVC and VP9 HW decoding. It also features an embedded ARM Cortex-M4 processor, which is a low power sensor processor supporting always-on apps such as MP3 playback and voice activation.
Commenting on the announcement, Jeffrey Ju, Senior Vice President of MediaTek said, "By leading with mobile CPU architecture and multimedia innovation, MediaTek continues to push the envelope of power efficiency and peak performance. We are excited to see device manufacturers raise the bar - in camera, display, audio and other consumer features. MediaTek has been adding innovative multimedia features to our platforms since the very beginning, enhancing the overall computing and multimedia experience as part of our strategy to put leading technology into the hands of everyone."
For the latest tech news and reviews, follow Gadgets 360 on Twitter, Facebook, and Google News. For the latest videos on gadgets and tech, subscribe to our YouTube channel.
Related Stories