LG is all set to expand its 'L' series range of smartphones by introducing its three new third-generation devices in the new L Series III range, named LG L90, L70 and L40. The handsets will be officially announced at the upcoming LG event at the Mobile World Congress scheduled for 24 February at Barcelona.
While the handsets' price and availability will be disclosed only after the official announcement, it has been understood that all three handsets will run the latest Android 4.4 KitKat OS and will feature 3G connectivity with different speeds. However, based on the remaining specifications, it is quite clear that LG L90 sports the highest specs, followed by L70 and L40. All three are said to arrive in Black and White colour variants.
The LG L90 will feature a 4.7-inch IPS display with qHD (540x960 pixels) resolution. Besides being powered by a 1.2GHz quad-core processor with 1GB of RAM, L90 comes with an 8-megapixel rear and 1.3-megapixel front-facing camera. There is no word on the smartphone's memory expansion, however the handset is said to come with a built-in 8GB storage. A powerful 2540mAh removable battery will back this device. LG L90 will measures 131.6 x 66.0 x 9.7mm in dimensions, as reported by Android Central.
The LG L70 settles down for nearly the same screen size of 4.5-inch with an IPS display packing a 400x800 pixels resolution. The smartphone, like L90, will come with 1GB of RAM, but is paired with a 1.2GHz dual-core processor. The LG L70 comes in two variants depending on the market, with a choice of 8-megapixel or 5-megapixel rear cameras. Both variants will have a front-facing VGA camera. The L70 comes with 4GB of built-in storage. The device will be backed-up by a 2100mAh removable battery. The LG L70 measures 127.2 x 66.8 x 9.5mm in dimensions.
The LG L40, being the smartphone with the lowest specs in line, features a 3.5-inch screen with 320x480 pixels resolution. The smartphone comes with a low 512MB of RAM and seemingly the same processor featured by L70 - a dual-core 1.2GHz chip. LG L40 misses a front-facing camera but feature a 3-megapixel shooter. Like the LG L70, the L40 will also arrive with 4GB of storage with no word on its expansion. Depending on the market, the handset will arrive in two removable battery model variants - 1700mAh and 1540mAh. The L40 is smaller and bit thicker in size than the L70 and the L90 (109.4 x 59.0 x 11.9mm).
All three budget smartphones will also come with an optional Quick Window cover, the first for a non-flagship LG smartphone.
LG recently revealed the LG G2 Mini, by posting a teaser image on its Facebook page, which depicts objects in pairs, one big, and one small. The handset is set to launch on 24 February at MWC 2014. More details can be found here.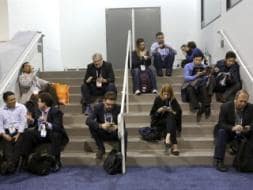 Mobiles launched in February 2014