LG showcased its much hyped Optimus series devices, that we've known about for quite sometime now, at the Mobile World Congress. It reiterated the presence of the Optimus G and Vu series and officially debuted the F and LII series of smartphones that have been seen in the previous weeks gaining momentum to the MWC.
LG Optimus G series


The company announced its latest flagship, the Optimus G Pro, which was recently launched in Japan and Korea both countries receiving different variants of the device. As expected both devices were spotted on the MWC floor.
To recap, the Korean version of the Optimus G Pro comes with a 5.5-inch 1080p full HD IPS display, a powerful 1.7GHz quad-core Qualcomm Snapdragon S4 Pro processor with 2GB RAM, Android 4.1.2 Jelly Bean, 3,140mAh battery, 13-megapixel rear shooter and a 2.1-megapixel front camera. The device features advanced UX features like dual-recording allowing users to shoot video from both the cameras simultaneously and Virtual Reality Panorama to capture panorama shots at 360 degree, QSlide, Live Zooming and QuickMemo.
The device features the typical LG glitter pattern on the back panel offering a "Digital Cube" effect, which is quite reminiscent of the Nexus 4. It sports a curved glass display that the company claims to give it a "2.5D" effect. The handset will be available in black and white colours and will pack a rather slim bezel.
This joins the company's Optimus G that was originally launched in September last year. It is powered by 1.5GHz quad-core Snapdragon S4 Pro processor alongside 2GB of RAM. It includes a 4.7-inch 1280x768 (320ppi) display and sports a 13-megapixel rear camera and a 1.3-megapixel front shooter.
It comes with 32GB of built-in flash storage, but no microSD card slot or expandable storage of any kind. Connectivity options include Wi-Fi, Bluetooth, Micro-USB and NFC. The phone originally shipped with Android 4.0 Ice Cream Sandwich, but as per the listing on Saholic, in India, the phone will come with Android 4.1 Jelly Bean preloaded. The device is now available online in the country for Rs. 30, 990.
LG Optimus Vu Series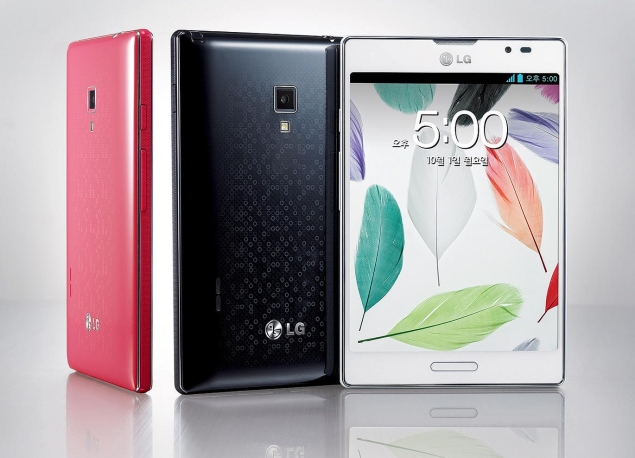 The LG Optimus Vu was launched in Korea and Japan in August last year and reached India two months later priced at Rs. 34,500. The 5-inch device simply made an appearance at MWC. It features TRUE-XGA IPS Display with a 1024x768 pixel revolution and a 4:3 aspect ratio.
Other specs include a 1.5GHz quad-core processor with 1GB RAM, Android 4.0.4, 32GB of internal storage and a 2,080mAh battery. The device also boasts a variety of connectivity options like Wi-Fi, 3G (HSPA+21 Mbps), Bluetooth 4.0, HDMI, DLNA, NFC, LTE and A-GPS. LG is also offering an NFC Tag(3) and a Rubbebdium Pen with the Optimus Vu.
The successor to this device came in the form of the Vu II, with a Qualcomm 1.5Ghz dual-core processor on board with 2GB RAM, 3 GB of internal storage, an 8-megapixel autofocus rear shooter and a 1.3 megapixel front camera and a 2150mAh battery. It is available in three colour options - white, black and pink. The Pen of the Optimus Vu II has a slimmer nib, which LG feels will facilitate more accurate handwriting. Other features include Vu Talk and QRemote.
LG Optimus LII Series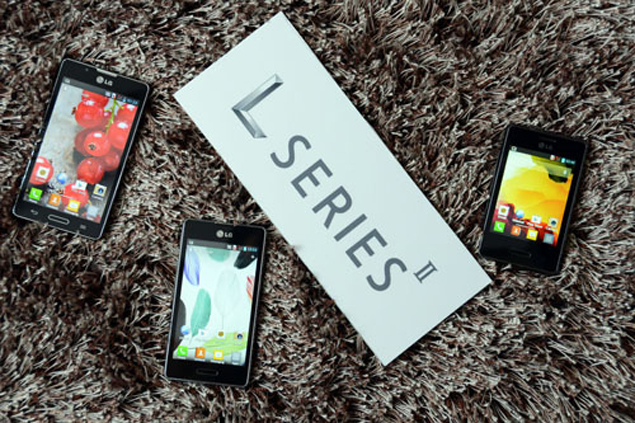 LG unveiled the next generation L Series II smartphones - the Optimus L3 II, Optimus L5 II and Optimus L7 II ahead of their official debut at MWC. The Korean manufacturer claims that it has built upon the widely successful L Series smartphones that sold more than 10 million units in the first 10 months, to include "contemporary design aesthetics and innovations that improve on the original".
In that regard, LG says it has introduced four new design elements incorporating a Seamless Layout, Laser Cut Contour, Radiant Rear Design and Smart LED Lighting on the home button.
The Optimus L7 II features a 4.3-inch IPS WVGA display, Android 4.1 Jelly Bean, 8-megapixel rear camera with LED flash, VGA front-facing camera, 1GHz dual-core Qualcomm MSM8225 processor with 768MB RAM, 4GB of internal storage and microSD card support. The handset measures 121.5 x 66.6 x 9.7 mm, and comes with a 2,460 mAh battery.
The Optimus L3 II with 3.2-inch QVGA IPS display and 1,540mAh battery Optimus L5 II has a larger 4-inch WVGA display and 1,700mAh battery.
The LII Series devices are said to be equipped with various proprietary features like QuickMemo, Quick Button and Safety Care.
QuickMemo allows users to capture and share handwritten ideas with a single tap, while Quick Button enables customers to personalize a hotkey to launch any app such as the camera, browser, music player or even QuickMemo. Safety Care offers three options - Emergency Call Forwarding, Phone Non-Usage Notice' and My Location Notice - which can be programmed for emergency contacts.
LG Optimus F series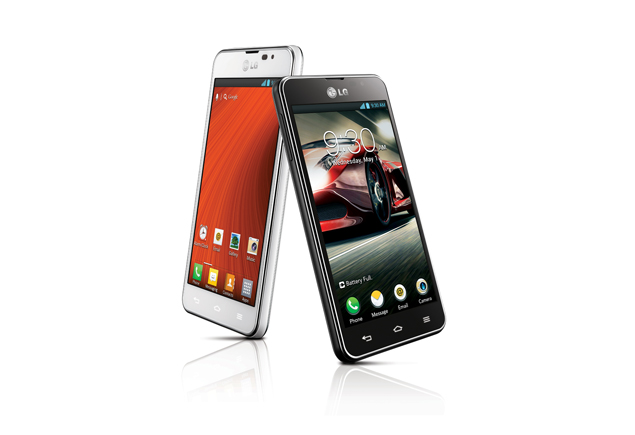 Earleir teased on LG's Facebook page, the new F Series device feature the 4G LTE capable Optimus F5 and F7 smartphones. The device images were posted by notorious Twitter user @evleaks a week before the Barcelona event.
The Optimus F7 is said to feature a 4.7-inch True HD IPS (312ppi) display, a 1.5GHz dual-core processor, 2GB RAM, 8GB internal storage with a microSD slot for up to 32GB expansion, an 8-megapixel rear camera, 1.3-megapixel front camera and a 2,540mAH battery.
The Optimus F5 will sport a 4.3-inch IPS (256ppi) display, a 1.2GHz dual-core processor with 1GB RAM, 5-megapixel rear camera, 1.3-megapixel front camera, 8GB internal storage expandable upto 32GB via microSD and a 2,150mAH battery. Both the phones will feature Android 4.1.2 Jelly Bean and will have latest LG features like QSlide, QuickMemo, Live Zooming, QTranslator and Video Wiz amongst many others.


MWC 2013 in pictures