LG at this year's CES already revealed some new devices including the new
flexible phone
, the G Flex2, and a new
smartwatch made exclusively for Audi
. However, the South Korean company reportedly had more up its sleeves.
A Korean site on Wednesday posted a picture claimed to be of LG's new prototype smartphone sporting a dual-edge display that is curved on two sides, unlike the Samsung Galaxy Note Edge's display that is curved only on one side. The phone was reportedly shown at a private event during CES 2015.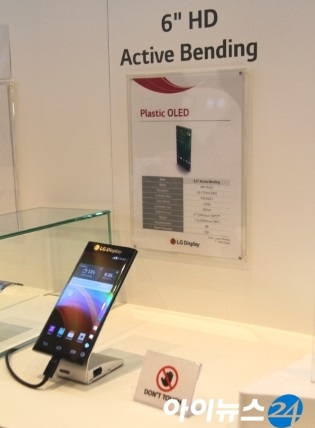 LG Display in a press statement on Sunday had announced that it will showcase some "Leading Technology, Great Design and Picture Quality, and Differentiation" at its private showroom to select customers.
According to Gforgames (via inews24), the prototype LG smartphone features a 6-inch HD display that packs an "Active Bending" Plastic-OLED (P-OLED) panel. Details regarding the manufacturing of such screen panels are limited; though we can expect LG to showcase the new "Active Bending" panels soon.
P-OLED display technology was first seen in the LG G Flex, and is present on the LG G Flex2 as well. As far as comparisons go, the Samsung Galaxy Note Edge features a 5.6-inch Quad-HD+ (1600x2560 pixels) Super AMOLED display, while LG's prototype device just packs a display sporting with an HD screen resolution - leading one to conclude LG showcased only an early prototype of its new "Active Bending" Plastic-OLED panel.
In other news, LG's Director of Corporate Communications, Ken Hong while talking to TrustedReviews said the successor of the LG G3, which may be called the G4, will see the company experimenting with something new. It is possible Hong was referring to the dual-edge display.
Speaking at CES, Hong said, "I think we will [experiment with our high-end phones]. I think we have to. If you look at the specs only, there are other competitors with similar-spec phones. How do you stand out in that pile if you're not doing something different? I don't think we are going to be able to sit back and expect people are just going to fawn over the G4, or whatever the name will be, just because they liked the G3. I don't think it works that way anymore. I don't think people are as loyal on the Android side as they are on the iOS side, so you really have to win every customer with your products."
Of course, even if the dual-edge display prototype is real, LG may never use it on one of its smartphones - but instead provide it to another manufacturer.