LG has finally made its 'isai FL' smartphone official, but for now the device will only be available in Japan. A joint effort between LG and KDDI, a Japanese carrier, the LG isai Fl is one of the first handsets to sport a QHD display, putting an end to company-fuelled speculation that the upcoming LG G3 smartphone would be the first to use LG's newly unveiled display. The price and availability of the handset remains unknown.
Notably, the Oppo Find 7 also sports a QHD display, and went up for pre-order in China this week, with shipping set to begin on May 29. Looking at the dates, and the lack of exact launch dates for the LG isai FL, it is hard to say which would be the first QHD smartphone from a major manufacturer to hit retail shelves.

Now that we know the LG G3 features the same display as the isai FL, it stands to reason that some of the other specifications are similar (notably, the LG G2 was based on the previous LG isai smartphone), giving those anticipating the LG G3 ahead of its launch on May 27 something to salivate over.
The LG isai FL sports the same 5.5-inch AH-IPS LCD QHD (1440x2560 pixel) panel with a massive 538ppi pixel density announced by LG for the G3. The company had also touted the display's NEMKO certification, its 100 percent RGB colour reproduction standard, and how the LTPS (low temperature PolySilicon) smartphone panels are 1.2mm thick with 1.5mm bezels. The thin bezels are quite apparent on the isai FL.
Other specifications listed for the LG isai FL smartphone are Android 4.4 KitKat OS, 13.2-megapixel rear camera, 1.3-megapixel front-facing camera, 32GB of inbuilt storage (microSDXC support up to 128GB), 2GB of RAM and 3000mAh battery capacity. The smartphone runs on the quad-core 2.5GHz Qualcomm Snapdragon 801 MSM8975AC chipset. The connectivity options include IR, Bluetooth 4.0, Wi-Fi 802.11 a/b/g/c/ac and 4G LTE. In addition to this, the smartphone also includes LG's Knock Code feature, 'isai Motion' and is said to be water-resistant.
The LG isai FL measures 145x76x10.5mm and is available in White, Pink and Blue colour variants. LG isai FL, like the most recent top-end LG smartphones, comes with a rear-button interface for volume control. The small black opening besides the volume controllers is assumed to be the fingerprint sensor. The power/ lock screen button seems to be on the right side of the phone.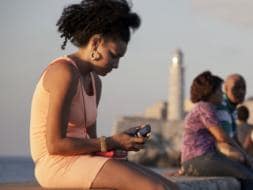 Mobiles launched in April 2014