LG, in an attempt to get early feedback, has announced that it will give out 4,000 G4 flagship smartphones to select consumers. Additionally, LG Greece has launched a dedicated site with a countdown to the
LG G4 launch event on April 28
, alongside a teaser with more camera details.
The South Korean giant on Wednesday in a press statement revealed that the LG G4 smartphones will be given out to select consumers in 15 countries including India ahead of the handset's official launch.
The company said, "LG Electronics will select 4,000 consumers in 15 countries who will 'test drive' the all new LG G4 smartphone weeks before its official launch."
The program will kick off starting Wednesday in Korea followed by Turkey, Indonesia, Singapore, United States, China, Brazil, Canada, United Kingdom, France, Germany, Mexico, Japan, Hong Kong as well as India.
The company has clarified that the participants will be selected from applicants in the 15 countries based on their entry responses. It added selection criteria may vary in each market. LG claims that applicants can increase chances of being selected by sharing their application experience on social media platforms such as Facebook, Twitter and Weibo.
"Once selected, participants in each country will be given an LG G4 for up to 30 days to experience its unique design and features, including its personalized UX, high performance camera and impressive display for sharing online," LG added.
Applicants interested in participating can check their local LG Web pages and social media sites in the coming days for more details.
Commenting on the consumer experience campaign, Juno Cho, president and CEO of LG Electronics Mobile Communications Company said, "Customers are our best fans and we think this would be an exciting and unique way to get our most important mobile product of the year close to the public. We're putting the success of LG G4 in the hands of consumers before the launch because we believe they are the best judge of a great user experience, beyond just benchmarks and speed tests."
In other news, LG Greece has launched a dedicated Web page with a countdown (see below) to the LG G4 launch event.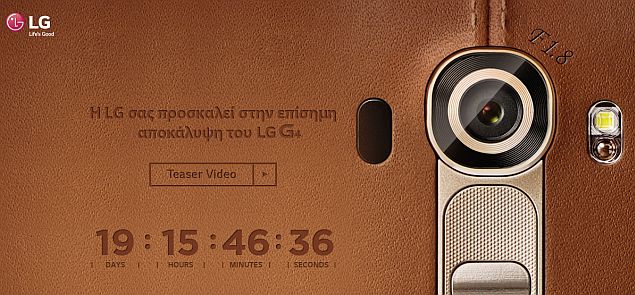 Much like the first teaser from LG, the LG Greece page again tips an f/1.8 lens for the rear camera, continuing the leather cover theme in a new teaser image. The current LG G3 features f/2.4 lens. While there is nothing else mentioned about the smartphone or its camera, the f/1.8 sensor on G4's rear camera hints at a better photo capturing function in low-light conditions. The image also features an LED flash, laser autofocus module, and rear button interface of its predecessor.
Recently, LG revealed that its new LCD panel would be used in the G4. LG Display also added that mass production of the new 5.5-inch QHD IPS display with a 535ppi pixel density has begun.