LG has finally launched its much-awaited G3 smartphone at its
simultaneous events
in New York, London, and San Francisco on Tuesday, with the tag line 'Simple is the New Smart'. Events in Seoul, Istanbul and Singapore will follow.
LG
for now has not yet announced the pricing of the G3 (D855) smartphone, but did say it will roll-out starting May 28 in South Korea, and then in phases globally on over 170 carriers.
Unfortunately, almost everything LG announced at the launch event about its new G3 flagship smartphone had been
previously teased
or
mistakenly listed
by the company, and also detailed in the
numerous leaks
leading up to the smartphone's launch on Tuesday.
The
LG G3
, running on Android 4.4.2 KitKat and a single-SIM configuration, bears a
5.5-inch AH-IPS LCD QHD (1440x2560 pixel) display
with a staggering pixel density of 538ppi. LG says the display redefines what is 'real'.
LG says it has reduced the pixel size on the G3's display by 44 percent from conventional full-HD mobile displays, giving it almost twice the pixels. The battery consumption of the display has also been minimised according to LG, with other power drain controls including adaptive optimisation for frame rate, CPU clocking, and timing control.
(
Also see:
LG G3 vs LG G2 comparison
)
The South Korean giant is also boasting of a new custom UI developed for the LG G3, calling it a 'simple flat GUI', using minimalistic designs, with light typesetting and circular motifs that pervade the whole UI from the icons to the QuickCircle notification area. The multitasking UI has also been given a tweak, with app grouping and symbols to help differentiate when switching.
The company is also touting three 'smart' features on the LG G3's UI, namely Smart Keyboard, Smart Notice, and Smart Security. The Smart Keyboard tries to minimise hand (thumb) and eye movement, with the keyboard able to slide up and down when required, and more. It also features adaptive touch and predictive typing. Smart Notice is the company's virtual assistant, that provides the 'right notifications at the right time', based on the phone's usage and status. Smart Security comprises Content Lock, Knock Code, and Kill Switch remote features.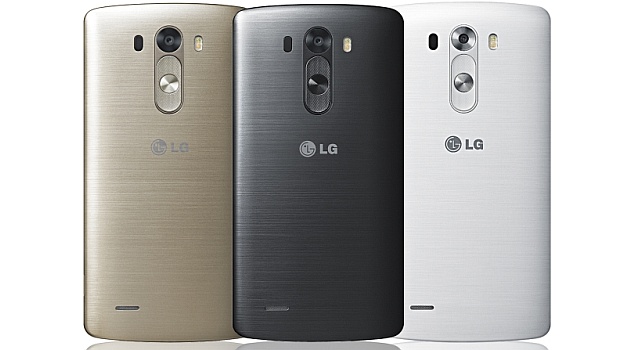 In terms of the body design, LG has used a lightweight metallic 'skin' casing, and redesigned the rear button interface with new button materials and shapes to make it more 'intuitive'. The G3 will be available in Metallic Black, Silk White, Shine Gold, Moon Violet and Burgundy Red. The G3 has dimensions of 146.3x74.6x8.9mm, and a weight of 149 grams.
(
Also see:
LG G3 vs Samsung Galaxy S5 vs Sony Xperia Z2 vs HTC One (M8) comparison
)
The G3 is powered by a quad-core Qualcomm Snapdragon 801 processor clocked at 2.46GHz, featuring 2GB of RAM for its 16GB built-in storage variant, and 3GB of RAM for its 32GB variant.
Notably, the LG G3 features storage expansion via microSD card (up to 128GB). The G3 has a 13-megapixel rear camera with OIS+, dual-LED flash and a laser autofocusing sensor that can focus in 0.276 seconds. The Touch & Shoot UI also brings the focusing and clicking down to one step, shooting when users touch the area they want to focus on.
The front-facing 2.1-megapixel camera on the LG G3 features a f/2.0 aperture, and a selfie mode that starts the timer countdown when users moves their hands in front of the camera.
Connectivity options include Micro-USB 2.0; Wi-Fi 802.11 a/b/g/n/ac; Bluetooth 4.0 LE (Smart Ready Apt-X); NFC; SlimPort; GPS/ A-GPS; Glonass; GPRS/ EDGE; HSPA+ (3G), and LTE (4G) with MiMO support.
The LG G3 is powered by a 3000mAh removable battery, and features wireless charging support enabled via its optional wireless charger that features a stand, enabling customers to easily use the phone while it is charging. It can be charged in portrait or landscape mode with the wireless charger.
Other features of the LG G3 include a 1 watt speaker with Boost Amp; KnockON and Knoc Code; new smart notifications; a new slim 'Smart Keyboard' layout; new file management features; a minimalistic new user interface on top of Android, and six QuickCircle apps - call log, dialler, music player, messages, clock and shortcuts to settings.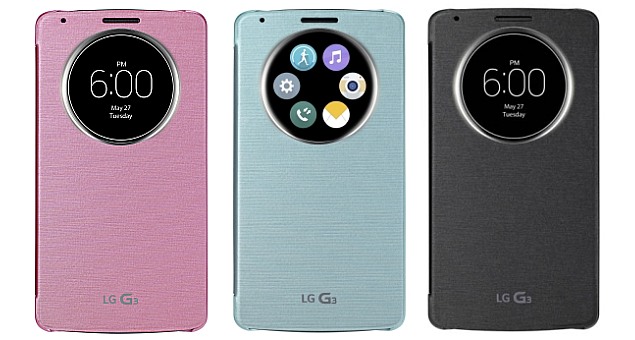 LG had announced the
QuickCircle cases for the smartphone last week
. Featuring 'Smart Lighting' around the circular window, the QuickCircle cases enable a lock screen UI with special widgets. Apart from the above listed native apps, LG is looking to encourage developers to make their own apps and widgets for the circular UI, with the announced release of an SDK.
LG also announced the G3's compatibility with the
G Watch
at the event, and in fact, any
smartwatch
running
Android Wear
.
Earlier in May, LG had unveiled another accessory for the LG G3 smartphone - the
LG Tone Infinim (HSB-900) Bluetooth stereo headset
made in collaboration with Harman Kardon. The headset, apart from the regular media controls, also features a call button, as well as sound and vibration alerts for incoming call or message, current time, and battery status.
One of the exclusive LG G3 features of the Tone Infinim (HSB-900) headset is 'Name Alert', which lets a user know who is calling by announcing the caller's name. Answer Me+ is another LG G3-exclusive feature that automatically disconnects the Tone Infinim when the smartphone is raised near the ear of the user for direct use.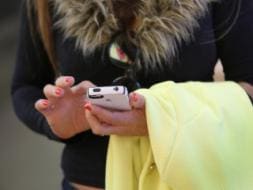 Mobiles launched in May 2014