Just when we were expecting that LG would keep something hidden for the launch of its flagship smartphone, the LG G3, the smartphone has started appearing in more leaks.
First there was an alleged press render leaked by Phonearena, showcasing LG G3 in full glory with colour scheme, and now the famous tipster @evleaks has hinted at what the mysterious sensor previously spotted on the G3's back panel in leaked images is - a laser autofocus sensor.
The tweet by @evleaks reads, "Mystery G3 sensor? Laser auto focus."
According to @evleaks, what is seen on the left of the LG G3's camera in leaked images is not an IR blaster as previously speculated, but an laser autofocus sensor that will help the camera ascertain the depth at which to focus. Notably, the HTC One (M8) (Review I Pictures) features a duo rear camera setup for the same reason - with the secondary camera meant to help the primary achieve the correct depth-focus.
@evleaks also shared a set of alleged press renders of the LG G3 which have the display on, and showcasing the circular lock screen that LG had revealed in its teaser video for the LG G3.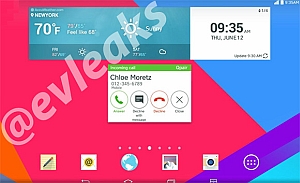 The tipster also shared an alleged UI screenshot (later removed) of the device's home screen in landscape mode. The alleged screenshot looked similar to the LG's Optimus UI, but it added a fourth touch button alongside the app switcher button.
In another leak from an Indian website, which claims to have received information from a reliable source, LG G3 is said to hit store shelves by June-end. The website also claimed that the LG G3 is not made of a polycarbonate material, but is in fact metal. The brushed metal finish for the LG G3 has been confirmed by the company in the teaser video, however, it still remains possible that finish has been achieved on a polycarbonate body.
The website also claimed that that the LG G3 will be powered by a Snapdragon 801 SoC instead of the previously rumoured Snapdragon 805 SoC. Other specifications mentioned by the website however remain the same as previously rumoured - a 5.5-inch QHD display, 3GB RAM and a 13-megapixel Sony IMX 214 Exmor RS sensor with OIS+. Another earlier rumour had indicated that the LG G3 will come in a 16GB variant that features 2GB of RAM, while its 32GB variant will sport 3GB of RAM.
The credibility of all these leaks and reports will ascertained on the day of the
LG G3's official unveiling, scheduled for May 27
in London, New York, and San Francisco, followed by a May 28 event in Singapore, Istanbul and Seoul.