LG G3, the much-anticipated flagship smartphone set to be launched on May 27, has now purportedly appeared in some new leaked images in cover cases, and Black and White colour variants.
Two leaked images (courtesy @evleaks) show the alleged cover cases of the LG G3, and while they don't reveal much about the overall body design or any of the specifications, they do show us the front panel and the iconic rear buttons of the LG G3.
To recall, the LG G3 according to previous leaks is thought to sport a rear-button interface with two volume keys and a circular power button in the middle, and the camera on top, something we again see in the newest leak.
The leaked image of the handset's rear panel is also seen to include a flash and what looks like a fingerprint sensor on either side of the rear camera, once again spotted in previous leaks. The newly leaked front panel images shows the same flat UI we have already seen last month along with a top speaker grill with light sensors and a front-facing camera placed on its left-side. One can see the LG logo at the bottom of the screen.
While the first image by @evleaks shows the LG G3 in Black colour variant, the second image shows the handset in White colour. The handset is also expected to arrive in a Gold colour variant, which was recently leaked in an image.
Another leaked image (courtesy Phonearena) allegedly shows the LG G3 Black and White variants side-by-side, but this time without a cover case, showcasing the brushed metal body design we've seen in previous leaks of the smartphone.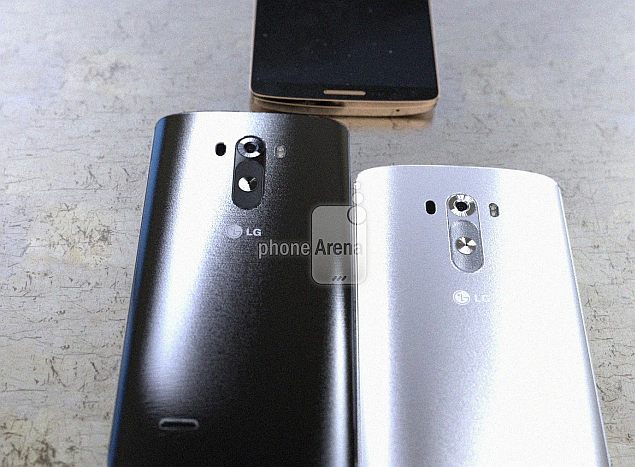 Phonearena also cites a source to confirm the inclusion of a 5.5-inch screen size, however LG confirmed the same last week, when it announced a NEMKO-certified 5.5-inch AH-IPS LCD QHD (1440x2560 pixel) panel with a massive 538ppi pixel density due on its flagship smartphone. Surprisingly though, the first phone to receive the panel was the Japan-exclusive LG isai FL for KDDI.
All speculation is set to come to an end as the G3 is expected to launch on May 27, with the firm sending out invitations for an event scheduled for the same day. LG G3 is expected to get launched in three cities on May 27 - London, New York, San Francisco - followed by a May 28 launch in Singapore, Istanbul, and Seoul.