LG has finally announced the launch of its much-awaited G Flex curved display smartphone in India, at Rs. 69,999. The South Korean major has confirmed that the
LG G Flex
will be hitting the Indian stores starting Thursday.
In early February, LG had listed the G Flex smartphone on the company's official India site with the same price, and no availability.
Notably, the LG G Flex with a whopping price of Rs. 69,999 has become one of most costly smartphones available in the Indian market leaving behind the Apple iPhone 5s, Samsung Galaxy Note 3 and HTC One Max.
Back in December 2013, along with the launch of the LG 55EA9800 55-inch curved OLED television in India, the Korean consumer electronics giant had announced the G Flex for the country, and given a tentative February 2014 launch date.
LG launched its first curved display smartphone in October last year with much fanfare, and it was rolled out only in South Korea initially.
The Android 4.2.2 Jelly Bean-based G Flex is powered by a quad-core 2.26GHz Snapdragon 800 (MSM8974) processor with an Adreno 330 GPU, and 2GB of RAM. It features a 13-megapixel rear camera, and a 2.1-megapixel front-facing camera. The G Flex is powered by a 3,500mAh battery, weighs 177 grams, and is 7.9mm at its thinnest, while being 8.7mm at its thickest.
As for the 6-inch curved display, LG has used a curved OLED panel, which is also built on plastic substrates instead of glass, supposedly giving the phone better durability. The display features Real RGB technology to provide all three sub-pixels in one pixel, thereby making it "brighter and more precise."
LG has also included a new 'self-healing' coating on the back cover, an elastic coating that supposedly has the ability to "recover from the daily wear-and-tear scratches and nicks that un-cased smartphones are likely to receive." The LG G Flex's self-healing capabilities have also been creating a buzz worldwide.
Commenting on the announcement, Soon Kwon, MD, LG India said, "Curved flexible displays are a groundbreaking technology that enhances consumers' viewing experience by many degrees. LG's latest offering G Flex combines innovation and technology along with sleek, curved design that not only delivers a more comfortable grip and fit, but offers better voice and sound quality. G Flex represents a new era in the smartphone space where curved and flexible displays are no longer a sci-fi fantasy."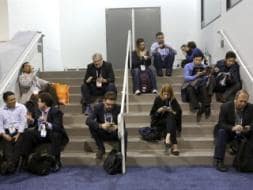 Mobiles launched in February 2014