Tipping its toe in the niche curved display smartphone market along with Samsung (and its differently curved
Galaxy Round
), LG has released the much-anticipated
G Flex
smartphone in Korea only for now, with availability starting in November via all three major local carriers. No pricing has been announced for now. LG in a press note did also mention that availability in additional markets will be announced thereafter.
Despite its low 720p resolution, the LG G Flex does seem to incorporate the current generation's best components, and can be considered a limited edition flagship from the Korean manufacturer. The Android 4.2.2 Jelly Bean-based phablet is powered by a quad-core 2.26GHz Snapdragon 800 (MSM8974) processor, an Adreno 330 GPU, and 2GB of RAM. It features a 13-megapixel rear camera, and a 2.1-megapixel rear camera. The G Flex powered by a 3,500mAh battery, weighs 177 grams, and is 7.9mm at its thinnest, while being 8.7mm at its thickest.
As for the 6-inch curved display, LG has revealed quite a few details about it - it's claimed to be the world's largest Plastic OLED display (P-OLED), which is supposedly ultra-light, ultra-thin and flexible. It's powered by a curved OLED panel, which is also built on plastic substrates instead of glass, supposedly giving the phone better durability. The display has features Real RGB technology to provide all three sub-pixels in one pixel, thereby making it "brighter and more precise."
The curved battery, as
previously announced
by LG Chem, is also supposedly amongst the first of its kind, using a patented Stack & Folding technology, meant to reduce the physical stress on the battery pack in curved form, and supposedly providing better stability and performance.
Both the LG G Flex and Samsung Galaxy Round are curved, however, LG's from top-to-bottom, or as LG calls, it, 'vertically curved.' The Galaxy Round is
curved from side-to-side
. According to LG, the design "reduces the distance between one's mouth to the microphone," delivering "improved voice and sound quality", and roughly translating to a 3dB increase in sound level when "compared to typical flat smartphones". The curved design apparently also offers a more reassuring grip, fits more comfortably in one's back pocket, and in in landscape mode, offerings an "IMAX-like" viewing experience for games and videos.
LG has also included a new 'Self-Healing' coating on the back cover, an elastic coating that supposedly has the ability to "recover from the daily wear-and-tear scratches and nicks that un-cased smartphones are likely to receive."
Apart from the 'Rear Keys' introduced with the
G2
, the LG G Flex several new UI also incorporates the some new user interface features, such as QTheater for quick access to photos, videos and YouTube from the lock screen; Dual Window for multitasking with two windows; Swing Lockscreen for a dynamic lockscreen image based on the way the phone's held; as well as three Rear Key LED indicators - Face Detection, Camera Timer and Urgent Call Alert.
Other UX features include LG's KnockON, Guest Mode and Plug & Pop, which were positively received when first introduced in the LG G2. The G Flex will offer LTE-A, LTE, HSPA+, Bluetooth 4.0, USB 3.0, Wi-Fi (802.11 a/b/g/n/ac) and NFC connectivity. LG's also touting the numerous audio formats the phone can natively decode, such as MP3, CD quality or 24 bit/192kHz Hi-Fi. For now, the LG G Flex will only be available in Titan Silver.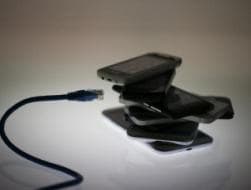 Mobiles launched in October 2013