LG seems all set to release its first curved display smartphone, the G Flex, at an event in Hong Kong next month. LG's vice chairman Koo Bon-joon had previously mentioned that the company was in
discussions with global telecommunications firms
to launch the phone, and that Europe and the US were probable markets.
Now, Chinese publication 3G.CN has published an invitation from LG for a G Flex event scheduled on December 3 in Hong Kong, where the company may announce global availability details, apart from Hong Kong launch details.
LG has already confirmed that it will launch the G Flex in France via mobile carrier, Orange, in December. However, no pricing details were revealed for France.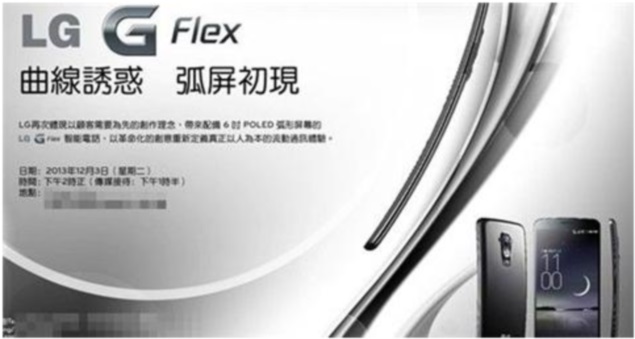 The South Korean manufacturer can also be expected to rollout the G Flex smartphone in more markets sometime later, as it could help the maker gain lead in nascent curved display smartphone market.
Recently, a report claimed that LG has been working on a successor to the G Flex curved display smartphone, one that would sport better bendable features. The report revealed that the alleged G Flex successor, thought to be dubbed G Flex 2, would come with special hard rubber body allowing it to bend up to a 90 degree angle.
Further, the report mentioned that the alleged G Flex 2 would include a flexible battery inside, although there was no word on the removable battery. The report also speculated that LG might launch the second smartphone in its G Flex series in Q2 2014.
LG unveiled the much-anticipated G Flex smartphone in October this year. It announced the pricing of the G Flex for the Korean market shortly after, which translated to roughly Rs. 59,000.
The Android 4.2.2 Jelly Bean-based phablet is powered by a quad-core 2.26GHz Snapdragon 800 (MSM8974) processor, an Adreno 330 GPU, and 2GB of RAM. It features a 13-megapixel rear camera, and a 2.1-megapixel rear camera. The G Flex is backed by a 3,500mAh battery, weighs 177 grams, and is 7.9mm at its thinnest, while being 8.7mm at its thickest. As for the 6-inch curved display, it comes with Plastic OLED display (P-OLED), which is supposedly ultra-light, ultra-thin and flexible.
(With inputs from Abhinav Lal)