LG Electronics Inc aims to broaden its range of smartphones so sales this year grow at double the rate of the market, as the South Korean company seeks to retake the position of world's third-biggest maker.
LG, who slipped behind Huawei Technologies Co last year with a market share of just under 5 percent, also plans to sell a smartwatch capable of connecting with rivals' phones, mobile division president Park Jong-seok told reporters ahead of a Barcelona trade fair this week.
LG shipped a record 47.7 million smartphones last year, 81 percent more than a year earlier. But its mobile unit needs more growth to return to profit, after spending heavily on marketing to narrow the gap with leaders Samsung Electronics Co and Apple Inc .
The company aims to increase sales through more models appealing to a wider consumer group, with the Barcelona launch of the G2 Mini - a lower-priced version of the flagship G2 - coming just weeks after unveiling a larger-screen G Pro2.
"I expect competition among tier-2 manufacturers for more market share to become tougher this year, and price competition will also naturally intensify," Park said.
LG's mobile unit may take a while to become profitable after swinging to a loss in the three months ended December, as it will continue to spend heavily this year to promote its high-end models, Park said.
Growth of high-end sales in advanced economies is slowing as smartphones become more widespread, likely bringing overall sales growth to the market consensus of 10 to 15 percent this year, Park said.
Overall sales grew 38 percent last year to 1.0 billion smartphones, showed data from researcher IDC.
Park also said LG plans to continue reducing its reliance on local retailers in China where competitors include Lenovo Group, whose $2.9 billion offer for Google Inc's Motorola handset division could see it leapfrog LG to global No.3 from No.5.
LG also has to contend with the low-priced phones of other local makers Huawei, ZTE Corp and Xiaomi.
"In China, we had been pushing for volume growth through investment in retail channels but this proved to be very costly," said Park.
"We made a strategic change there in late 2012 to focus on high-end models and aim to grow sales mainly through partnerships with mobile carriers."
© Thomson Reuters 2014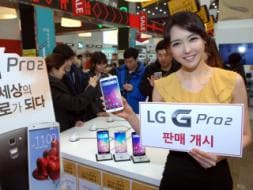 MWC 2014 in pictures