Lenovo is considering to make a serious dent in phablet territory by launching the 5.5-inch Lenovo K900 with a full-HD IPS display. The K900 smartphone will be available from April in China followed by India, Russia, Indonesia, Vietnam and Philippenes soon. Pricing details are still unknown.
Coming to the specifics, the K900 has some impressive specs to flaunt. Running on Android 4.1.2 Jelly Bean, the device has a 5.5-inch 1080p IPS capacitive touch display adorning Gorilla Glass 2. The resolution translates to a pixel density of more than 400ppi.
At 6.9mm and a 162gms (that's still heavy), Lenovo claims the K900 is the thinnest phone in its class. Despite its slim profile, the smartphone is strong and sturdy unibody construction sporting a stainless steel and polycarbonate exterior.
Coming to what's underneath, it looks like Lenovo believes in firsts. If the Lenovo K800 was the first Intel Medfield phone unveiled at CES 2012, then the K900 is the first smartphone to pack in Intel's Clover Trail+ platform, likely the Atom Z2580 dual-core processor clocking in at 2GHz. The device will feature 2GB RAM and there's 16GB of internal storage.
The K900 comes with a mighty 13-megapixel camera that has been optimised for size with a new Sony Exmor BSI sensor and layout that does not protrude from the case, leaving a clean, smooth rear face that doesn't snag on clothing.
Lenovo equipped the K900 with an f1.8 focal length lens, making it the first smartphone to offer such a wide aperture on its camera.
In addition to these improvements to the rear camera, the 2-megapixel front camera has also been widened to an 880 viewing angle, the widest available on a smartphone front camera for convenient self-portraits and video calls.
Speaking of calling, some may find it disappointing to know that the device does not support 4G. It runs on GSM and 3G UMTS networks.
The smartphone is expected to be unveiled in four colours including Black, Silver and Copper. Based on the model, users can either get it in a striped brushing finish or a gem-like pattern on the rear panels.
Could the Lenovo K900 finally bring and end to Samsung's reign as the leader of the smartphone-tablet hybrid? This one is certainly to watch out for.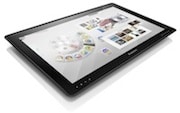 In pics: Best of CES 2013

Lenovo K900 key specifications
5.5-inch 1080p IPS capacitive touch display
13-megapixel camera with Sony's Exmor BSI sensor
2-megapixel front camera
Intel's Atom Z2580 2GHz dual-core processor (Clover Trail+)
2GB RAM
16GB internal storage
Android 4.1.2 Jelly Bean