Amidst the endless number of leaks surrounding the Windows Phone 8.1 update, including several videos and images, it has been noted that the latest version of Microsoft's mobile operating system might offer speedy access to hot and trending apps in the Windows App Market.
According to the latest leak, the Windows Phone Store app in the Windows Phone 8.1 OS is seen with some noticeable changes, with several new sections.
The 'Quick Links' section in the Windows Phone Store app is said to include new tiles for New+Rising Apps, New+Rising Games, Top Free Apps, Top Free Games, Featured Apps, Featured Games, Top Paid Apps and Top Paid Games.
The 'My Apps' section, as shown in the leaked images, will let users see what apps they have installed and what apps require updates. Users will also be able to select the apps based on the categories for games, entertainment, lifestyle and more, as per WP Central. Furthermore, the latest Windows Phone 8.1 OS would let users follow active download via a dedicated status bar and get better suggestions of apps depending on the user's location.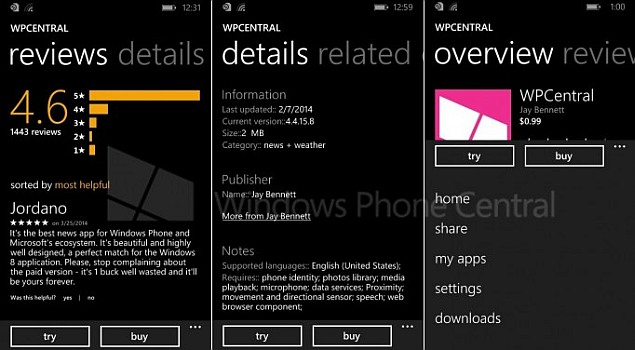 If the leaked images are to be believed, the app and game listings have also been changed to give a fresh new look to the Windows Phone Store. Along with a new layout seen in the images, the menu options have been also tweaked. The app screenshots are said to appear in the same screen as the app description. Review section is expected to include a graph-based rating system for easy sorting of reviews. The app details like language, version number, and last update will have their own separate section.
A couple of weeks ago, a detailed three-minute video surfaced online and showcased the new camera user interface and other photo settings in the upcoming Windows Phone 8.1 update.
For the latest tech news and reviews, follow Gadgets 360 on Twitter, Facebook, and Google News. For the latest videos on gadgets and tech, subscribe to our YouTube channel.
Related Stories