While a number of reports had already been
tipping a September 9 launch date
for the next generation iPhone, a new leaked image of the iPhone 6's alleged quick start guide is said to reconfirm the launch date as well as the design of the phone.
The September 9 launch date that's been tipped again is in-line with previous leaks that pointed to a mid-September launch for the next iPhone 6 models. If true, the launch date would correspond to the second Tuesday of September, a day that Apple used to unveil the iPhone 5c (Review) and iPhone 5s last year.
The leaked image has been published by Nowhereelse.fr, who notably leaked iPhone 5s' quick start guide last year ahead of the official announcement, and which was spot-on. The site is claiming the leak iPhone 6 quick start guide is from a trusted and loyal source.
The leaked image of the alleged quick start guide shows the much-anticipated September 9 launch date on the screen with the handset's name as iPhone 6. The alleged quick start guide further corroborate what's has been widely expected based on earlier leaks. The leaked document again tips that the next iPhone would house the power button on the right panel of the device, instead on the top panel seen on current iPhone models.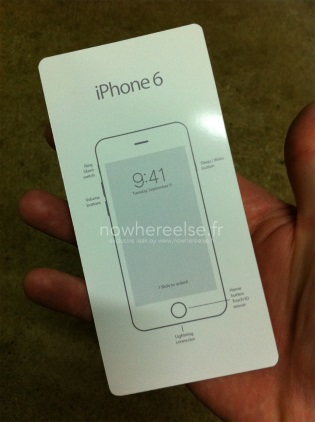 However, the alleged quick start guide contradicting flurry of earlier leaks show a new design of the iPhone 6. The leaked document shows the alleged iPhone 6 sporting the same straight-edge industrial design, instead of curved edges, seen on the iPhone 4, iPhone 5 and iPhone 5s. MacRumors also points to some formatting errors on the leaked guide, further questioning its authenticity.
Other features that are seen on the leaked quick start guide that have previously been attributed to the iPhone 6 design are redesigned volume buttons on the left panel; Lightning connector at the bottom, and presence of Touch ID sensor on the home button.
In addition to the leaked quick start guide, Nowhereelse.fr citing the same Chinese supply chain source claims that the 128GB model is confirmed.
Last week, a leaked schematics yet again tipped that the upcoming iPhone might see the introduction of a new 128GB inbuilt storage variant. The alleged iPhone 6 is said to come launch in 16GB, 64GB, and 128GB storage variants.
Another report on Tuesday suggested possible screen resolutions for both the 4.7-inch and 5.5-inch versions to be 750x1334 pixels and 1242x2208 pixels, respectively. Additionally, iPhone 6 was said to not ship with the anticipated new Lightning Cable with reversible ports.