While a number of reports including a recent one by the Wall Street Journal have confirmed the presence of a fingerprint sensor on the new iPhone, a new leaked image of the iPhone 5S' alleged Quick Start Guide also gives a name to the feature.
We're just hours away from Apple's special event where it is expected to unveil the new iPhones, and now a new image that claims to feature the documentation accompanying the iPhone 5S, has been
posted
by French website Nowhereelse.fr that describes the Home button as 'Home button/ Touch ID sensor.' There also appears to be a silver ring around the Home button in the guide.
If the image turns out to be genuine, it would imply that Apple will refer to the fingerprint scanner as the Touch ID sensor, and that the consumer name of the feature would be Touch ID. The authenticity of the image has not been verified, and a report by Apple Insider
points out
that Apple doesn't use the "Volume buttons" and " Ring/silent switch" terms seen in the leaked guide. It is somewhat of a departure from Apple's usual "Volume Up/Down" and "Ring/Silent" naming conventions seen on the latest iPhone Quick Start Guide, though some of these terms do appear in the iPod and iPad manuals.
The exact use case for the fingerprint scanner is still not known but it's being speculated that that it could be a way to authenticate users while unlocking the phone or while buying apps and other content.
Earlier today, a Wall Street Journal report had confirmed
that Apple will include a fingerprint scanner on the more expensive of two iPhones
it is expected to unveil later in the day.
Just a few days back, a new leak that claimed to identify a
Home button flex cable in the iPhone 5S
in a way confirmed that the Home button would integrate a fingerprint scanner.
Purported images of the iPhone 5S casing had also revealed
a silver ring around the phone's Home button
, indicating the possibility of a fingerprint scanner being present on the button.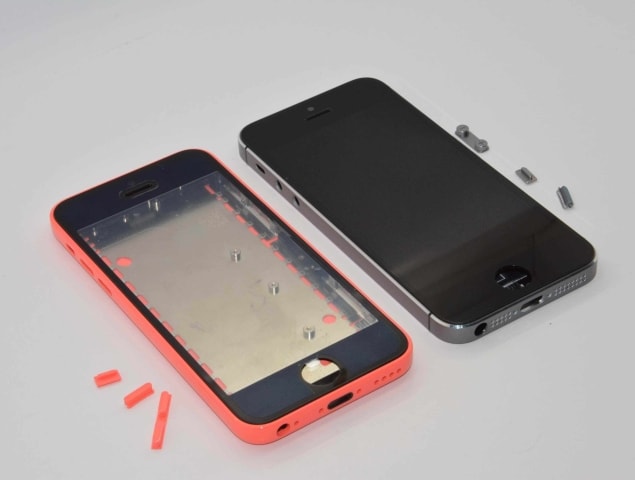 Are we looking at Apple's new iPhones?