While BlackBerry is known to be preparing to launch the much-anticipated Passport this year, apart from the Q20 'Classic', a website claims to have obtained the roadmap for the Canadian firm's launches and software updates for the rest of 2014.
The alleged BlackBerry roadmap was sourced by n4bb, and apart from software updates - as well as expected launch dates for two handsets - details the company's new Affordable, Classic, Innovative, and Prestige segments - which as the report notes, appear to be cognizant of the Canadian smartphone manufacturer's current 'active' user base.
The leaked roadmap also features the purported BlackBerry descriptions for the Affordable, Classic, Innovative, and Prestige segments, detailing them as 'Contemporary Yet Affordable', 'Powerful Yet Uncomplicated', 'Unique Yet Purposeful', and 'High Design Yet Functional' respectively. The more detailed descriptions are interesting to read.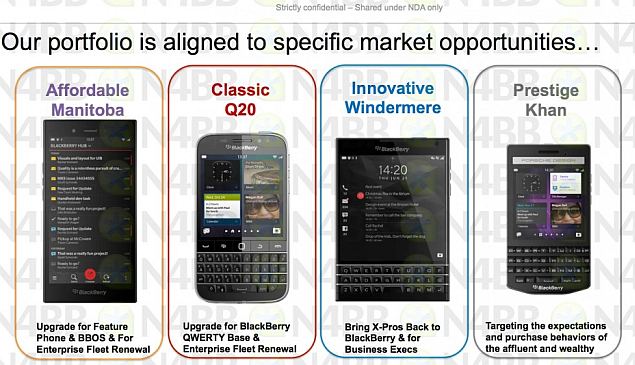 The portfolio seen on the roadmap shows the manufacturer will attempt the Affordable, Classic, Innovative, and Prestige segments with the Manitoba, Q20, Windermere, and Khan handsets, with the Q20 'Classic' and Passport 'Windermere' already confirmed, and the other two leaked as the P'9983 'Khan' and Z3 LTE 'Manitoba' in the past.
As per the leaked roadmap, BlackBerry might introduce the awaited Passport 'Windermere' handset, the pre-registration of which started earlier this month and the BlackBerry 'Khan' handset, at the same time in the third-quarter of 2014 - or more realistically, by the end of Q3 of this year.
Notably, BlackBerry's upcoming square-shaped smartphone, the Passport, was officially confirmed by the company's CEO for a September release.
The roadmap also shows the roll-out of the BB10 OS version 10.3.1 to devices which are still 'in life' in Q4 of this year. The handsets devices that expected to see an updated to BB10.3.1 OS are Z10 (Review | Pictures), Z30 (Review | Pictures), Q10 (Review | Pictures), Q5 (Review | Pictures), and Z3 (Review | Pictures). Also noted in the leaked roadmap is the continuation of the BlackBerry 9720, a BBOS 7 handset, all the till 2015.
The roadmap however fails to mention the launch dates for the 'Manitoba' Z3 LTE or the BlackBerry Q20 Classic, a handset that was announced at the MWC 2014 earlier this year.
Last week, some of the specifications for the BlackBerry Passport were leaked online. Purported specifications of the device include a 2.2GHz quad-core Snapdragon 800 (MSM8974-AA) processor; an Adreno 330 GPU; 3GB of RAM; 32GB of inbuilt storage, expandable storage via microSD card (up to 64GB); a 13-megapixel rear camera with BSI sensor; a 2-megapixel front camera, and a 3450mAh battery.
The company had previously revealed BlackBerry Passport will come with a 4.5-inch LCD display with a resolution of 1440x1440 pixels, with the leak adding Corning Gorilla Glass 3 protection.