Domestic handset maker, Karbonn Mobiles has launched four new budget Android smartphones for the Indian market, the Karbonn A16, Karbonn A35, Karbonn A90 and Karbonn A99. The company states in a press note that the newly launched budget Android smartphones are aimed for the festive season.
The Karbonn A16comes at a price of Rs. 6,490; while the Karbonn A35 is the costliest among the four newly launched smartphone and is priced at Rs. 7,490. Meanwhile, the Karbonn A90 comes for Rs. 5,490, and the Karbonn A99 is available at Rs. 6,590.
Out of the four new Karbonn smartphones, the Karbonn A16 and Karbonn A99 were listed online earlier this week. Both the Karbonn A16 and Karbonn A99 handsets interestingly come with identical specifications; with the sole difference that the Karbonn A99 packs a 1400mAh battery, while the Karbonn A16 packs a 1350mAh battery. Both the Karbonn A16 and A99 are dual-SIM devices with support for GSM+GSM.
Other specifications of the Karbonn A16 and A99 budget smartphones include 4-inch WVGA (480x800 pixels) display, dual-core 1.3GHz processor, 512MB of RAM, 4GB of inbuilt storage further expandable up to 32GB with microSD card, a 5-megapixel rear camera, and a VGA front-facing camera. Both the handsets, the Karbonn A16 and Karbonn A99, run Android 4.2 Jelly Bean out-of-the-box.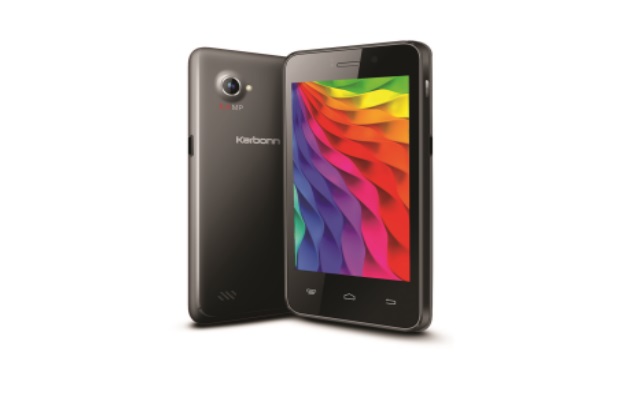 The Karbonn A35 features a 5-inch qHD IPS display and is powered by 1GHz dual-core processor. The smartphone runs dated Android 4.0 Ice Cream Sandwich. It packs an 1800mAh battery while there is a 5-megapixel rear autofocus camera and also onboard is a 2-megapixel front-facing camera. The Karbonn A35 comes with 512MB of RAM and includes 4GB of inbuilt storage, with no details of expandable storage. The device also comes preloaded with apps like Hungama, Karbonn Live, Whatsapp and Office Suite.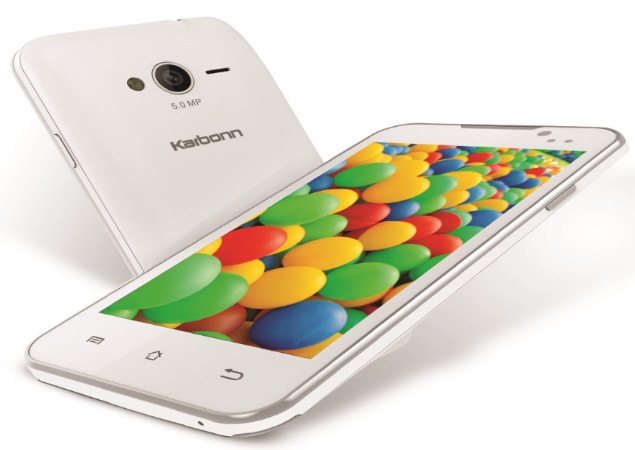 Last of the newly launched handsets, is the Karbonn A90, which comes with 4-inch IPS display (unspecified resolution) and runs Android 4.0 Ice Cream Sandwich. The smartphone is powered by a 1GHz processor with no word on chipset used and has 512MB of RAM. It sports a 5-megapixel rear camera while there is mention of the front-facing camera. Other specifications of the Karbonn A90 include dual-SIM (GSM+GSM) support and 1400mAh battery.
Commenting on the launch, Shashin Devsare, Executive Director, Karbonn said, "Karbonn intends to 'Massify Technology' with its innovative range of smart devices. Going a step forward with our value-for-money product offerings, we are confident to lighten the mood of the consumers, thus 'Massifying Happiness'. We are looking towards aggressive market penetration and in this festive season where volume sales are greater we seek to augment our market share with this product range. With this new smartphone range aimed for this festive season, we have enabled our consumers with a wider range of perfect gifting options."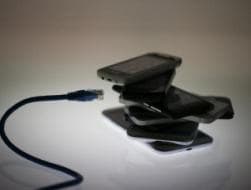 Mobiles launched in October 2013

Karbonn A16 key specifications
4-inch WVGA display with 480x800 pixels resolution
1.3GHz dual-core processor
512MB of RAM
4GB inbuilt storage, expandable up to 32GB via microSD card
Android 4.2 Jelly Bean
Dual-SIM (GSM+GSM)
1350mAh battery
Karbonn A99 key specifications
4-inch WVGA display with 480x800 pixels resolution
1.3GHz dual-core processor
512MB of RAM
4GB inbuilt storage, expandable up to 32GB via microSD card
Android 4.2 Jelly Bean
Dual-SIM (GSM+GSM)
1400mAh battery
Karbonn A35 key specifications
5-inch qHD IPS display
1GHz dual core processor
512MB of RAM
5-megapixel rear camera
2-megapixel front-facing camera
4GB inbuilt storage
Android 4.0 Ice Cream Sandwich
Dual-SIM (GSM+GSM)
1800mAh battery
Karbonn A90 key specifications
4-inch IPS display (unspecified resolution)
1GHz processor
512MB of RAM
5-megapixel rear camera
Android 4.0 Ice Cream Sandwich
Dual-SIM (GSM+GSM)
1400mAh battery