New images detailing the rear casing of the iPhone 7 have emerged revealing some interesting details. If the pictures are real, the upcoming model may have the best sound performance ever seen on an iPhone.
The iPhone 7 case reveals that there might be four speaker grilles on this year's iPhone, with two at the bottom and two on the top.. This refutes all previous rumours, as some suggest that the iPhone 7 may ditch the 3.5mm audio jack at the back to house two speaker grilles at the bottom, but no leaks so far have shown four speaker grilles. According to the leak (via Nowhereelse), there are two speaker grilles on the bottom, adjacent to the Lightning port, and two housed on top.

We also don't see any sign of the 3.5mm audio jack on the bottom panel. This is in line with previous reports that suggest that the audio will now be connected through the Lightning port or Bluetooth wireless devices. The camera seems to be housed on the top-right of the smartphone; however, the mic and the flash follow at the bottom, and not on the sides. The camera hole also seems to be larger than the one seen on the iPhone 6s, indicating more aperture leading to better quality photos. Aperture ascertains the amount of light that enters into the lens, capturing more detail.
In the meanwhile, analyst Nomura Securities (via Barron's Asia) also suggests that, even though the dual camera setup may only be exclusive to the iPhone 7 Plus, Apple may bring optical image stabilisation to the 4.7-inch iPhone 7. Past leaks suggest that Apple is looking to make iPhone 7 1mm slimmer, and introduce a Smart Connector at the back for connecting the Smart Keyboard cover or other device like charging docks.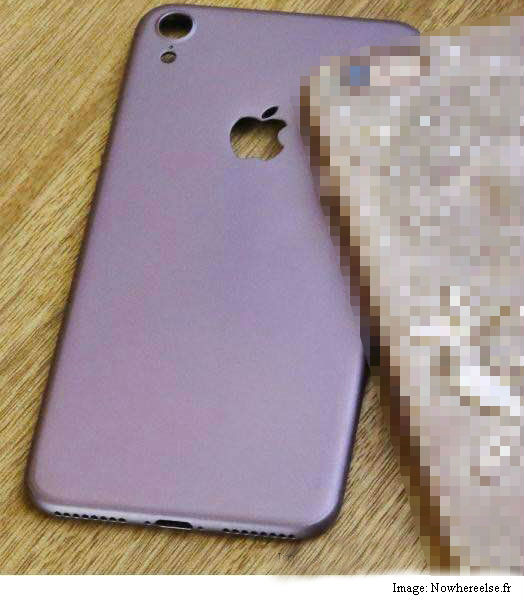 The larger variant is said to see a bump to the 3GB of RAM, while both various will see antenna bands shifted to the edges to make them look sleeker. For the first time, the upcoming iPhone is also rumoured to come in three variants - iPhone 7, iPhone 7 Plus, and the iPhone 7 Pro/ Plus Premium.
The Barron's report also claims that Sony has been lagging behind Apple's order for dual cameras due to natural hindrances. The April earthquake at Kumamoto damaged the company's manufacturing unit slowing down production, forcing Apple to go to LG to make some amount of cameras.

There is also an image leak by Steven Hemmerstoffer suggesting that a 256GB variant is going to be introduced in the iPhone 7 Pro/Plus Premium line-up. The image shows only 16GB, 64GB and 256GB chips, hinting that Apple might do away with the 128GB altogether. However, the base 16GB storage option is likely to remain. The image also shows a dual-camera module, as has been rumoured for the larger iPhone 7 variant for a while now.