We may have just gotten our first glimpse (see below) at the iPhone 7 - at least a component. A report coming out of Taiwan claims to have revealed the innards of Apple's next flagship smartphone.
Taiwanese tech blog Apple Club has posted what it claims are the leaked photos of the iPhone 7 backlight component. What makes its claims somewhat credible is that the display component seen in the picture has a 3D Touch chip, a feature that the iPhone 6c (or iPhone 7c) - the rumoured 4-inch iPhone model - isn't reported to have.
The leaked photo doesn't exactly reveal any new feature of the iPhone, mostly because it is fairly difficult to gauge new changes in the iPhone by just looking at the display panel's back and the components.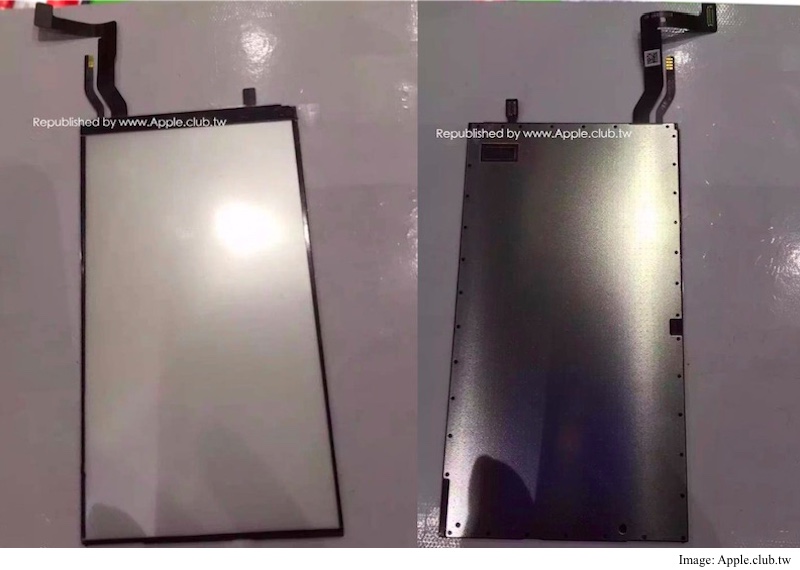 From what we have heard so far, the iPhone 7 could have an Intel-made processor (obviously designed by Apple). Rumours also suggest that the iPhone 7 could launch with a more capable 3D Touch display, supposedly offering support for multi-touch.
Apple is also said to be working on a different display technology, going away from LCD screen to Oled by 2018. Though, the time-line mentioned in that report means that this year's iPhone is most likely to retain the LCD display.
Two separate reports have claimed that Apple plans to ditch the 3.5mm headphone jack in the new iPhone. The reports add that this would allow the company to shave off iPhone 7's thickness by at least 1mm. Users will be able to utilise their existing EarPods using a converter. Apple is also expected to release a new wireless earphone.
(Also see: iPhone 7 to Be Waterproof, Sport 3GB of RAM: TrendForce)
The iPhone 7 is expected to launch around September, the usual period for an Apple smartphone launch. However, according to multiple reports, Apple also plans to launch a 4-inch iPhone dubbed either iPhone 6c or iPhone 7c sometime around April. The company is also expected to launch the second-generation Apple Watch at the same event.
For the latest tech news and reviews, follow Gadgets 360 on Twitter, Facebook, and Google News. For the latest videos on gadgets and tech, subscribe to our YouTube channel.
Related Stories