Apple for months has been rumoured to be working on a new iPhone that will have no 3.5mm headphone jack. The company has been said to
remove the 3.5mm jack
from the iPhone 7 models and replace it with a Lightning port in order to
make the smartphone slimmer
. A new leaked image however tips that iPhone 7 will include a 3.5mm jack after all.
Nowhereelse has posted an image that is claimed to show the circuit board of the 4.7-inch iPhone 7, and a 3.5mm audio jack is visible. The leaked image of the iPhone 7 is compared alongside the image of the circuit board from iPhone 6s and they look identical. Apart from the 3.5mm jack, there will be the standard Lightning port.
Notably, the leaked image from the alleged iPhone 7 is one of the first in several weeks that tips the presence of the 3.5mm jack in the upcoming iPhone.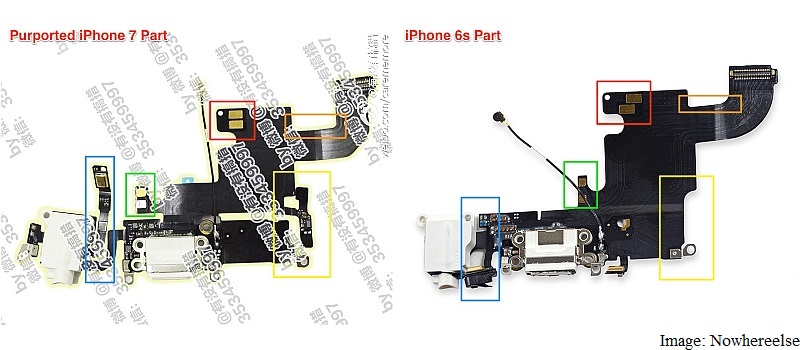 Previously, some leaked images allegedly showed cases for the upcoming iPhone 7 smartphone, and they didn't include any cut-out for the 3.5mm audio jack. Apple was also speculated to be working on Lightning cable-based or Bluetooth-enabled headphones for the iPhone 7.
Based on preliminary leaks, Apple is widely expected to continue with the iPhone 6 and iPhone 6s design language for the upcoming iPhone 7.
Apple CEO Tim Cook recently promised innovative new features in the upcoming "iPhones" which clearly meant the Cupertino-based giant was working on multiple iPhones this year. Cook stressed that the new iPhone models will persuade existing iPhone users to upgrade. He also made references of the company's first smartwatch, the Apple Watch saying that people in few years will regret not wearing the Apple Watch.
For the latest tech news and reviews, follow Gadgets 360 on Twitter, Facebook, and Google News. For the latest videos on gadgets and tech, subscribe to our YouTube channel.
Related Stories