New leaked images that tip the battery sizes of the alleged 4.7-inch and 5.5-inch
iPhone 6
models to be 1810mAh and 2915mAh have surfaced online, alongside display panel images. Additionally, a report claims the sapphire glass panels expected to be used on the iPhone 6 will enter mass production this month.
The new leaked images come courtesy of a Taiwanese publication, first picked up by 9to5mac, that also claims the alleged 5.5-inch iPhone 6, previously said expected to be released as the iPhone Air, will instead be called the iPhone 6L. Notably, this is the first time we have heard the reference of 'iPhone 6L' for the larger model.
The current leak goes in-line with an earlier report that suggested the alleged 4.7-inch iPhone 6 would include a battery capacity between 1800mAh and 1900mAh. However, it contradicts a recent claim by Chinese analyst Sung Chang Xu who suggested the alleged smaller iPhone 6 variant would pack a 2100mAh battery.
Previous leaks had also tipped a 2500mAh battery to power the larger 5.5-inch version of the iPhone 6. If the purported battery capacity of the 4.7-inch iPhone 6 and 5.5-inch turns out to be 1810mAh and 2915mAh respectively, it will be a major upgrade over the battery capacities of the iPhone 5s (1560mAh) and iPhone 5c (1510mAh).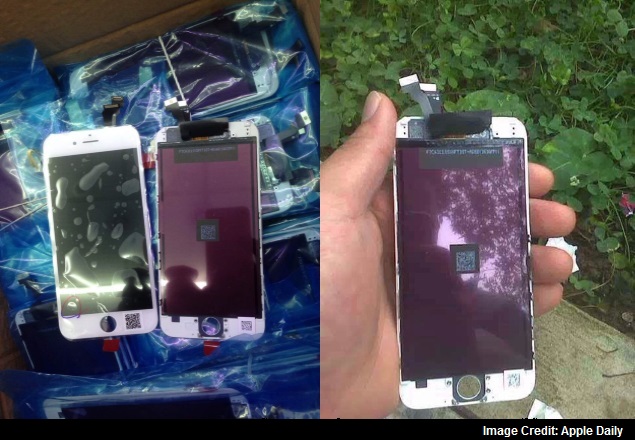 In addition to batteries, the display panels of the alleged iPhone 6 and iPhone 6L were also leaked in images. The iPhone 6L is seen with a purple coloured interior, while the 4.7-inch model's panel seems to be almost identical to previous iterations.
Further, another report claims that sapphire glass screens expected to be used in the next iPhone will enter mass production this month. The report claims that Apple will be shifting from the glass used on the older iPhone models to sapphire glass material for the next generation iPhone 6.
The Guardian in a report suggests that GT Advanced Technologies, the maker of the sapphire material that's also expected to be used to cover the fingerprint sensor and camera lens, is being pushed to create industrial quantities of man-made sapphire.
Earlier reports had suggested that GT Advanced Technologies had received sapphire crystal display tool components, which were enough to manufacture between 100 and 200 million 5-inch iPhone displays. Some reports had even indicated that due to use of costly sapphire as a display material; the alleged iPhone 6 with 5.5-inch display would have limited production.
Recently, multiple reports suggested that Apple will unveil the iPhone 6 on September 9. The date was almost in-line with previous leaks that pointed to a mid-September launch for the next iPhone 6 models. If true, the launch date would correspond to the second Tuesday of September, the day that Apple used to unveil the iPhone 5c (Review) and iPhone 5s last year.