When Apple unveiled the iPhone 5s last year, one of the most notable features that set the handset apart from its predecessor, the
iPhone 5
, as well as its lower-priced sibling, the
iPhone 5c
(
Review
), was the Touch ID sensor. Apple is also expected to bring the same feature to its next iPhone devices as well.
Now, new reports indicate that Apple is working to improve its own Touch ID sensor on the alleged iPhone 6, which is believed to be unveiled to come in two variants 4.7- and 5.5-inch. Nowhereelese has also posted an image that purportedly shows the Touch ID panel of the alleged iPhone 6 compared side-by-side to the iPhone 5s.
MacRumors citing Nowhereelese notes that the new Touch ID component seems to be similar in design to the one found on the iPhone 5s. The most prominent difference is reportedly the relocation of the screw holes that now line-up with the metal housing of the component.
(Also see: iPhone 6 Clones to Hit the Market Before Apple's Smartphone)
The report also hints that the new Touch ID sensor that will be seen in the unannounced iPhone 6 will be more durable that the one currently fit in the iPhone 5s.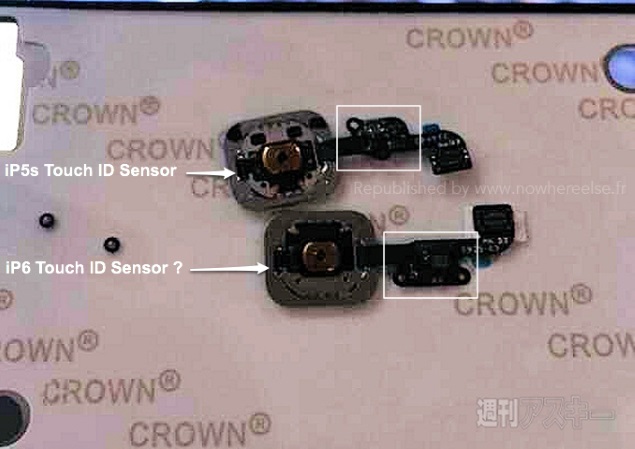 Earlier reports had suggested that the Touch ID sensor tech is all set to go mainstream in Apple devices and is likely to be seen next on the second-generation iPad Air and the new iPad mini with Retina display, apart from the alleged iPhone 6.
(Also see: As Apple Readies iPhone 6, Samsung Faces Battle on Two Fronts)
Earlier this year, some users reported that their iPhones seemed to forget their fingerprints after a while; however, Apple released an update with improvements to Touch ID fingerprint recognition on the iPhone 5s.
In addition, Uswitch has posted images that are claimed to be of the purported rear shell of the 4.7-inch iPhone 6 model, showing the cut-outs on the rear shell as well as internals of the alleged shell that will include the various components of the device such as the antenna.
Earlier this month, a report indicated a September 25 (Thursday) availability date for the alleged 4.7-inch and 5.5-inch iPhone 6 models, which is not in line with Apple's traditional Friday launch, while also claiming that the name of the larger 5.5-inch iPhone 6 variant will be iPhone Air.