Apple's next iPhone device, expected to be called the iPhone 6, has once again been tipped to launch on September 19 - this time thanks to a leaked promotional flyer from China.
The leaked image of the alleged iPhone 6 flyer was picked up byGSM Insider from a Chinese user's Weibo account, showing the September 19 launch day alongside purported pricing of both the models.
According to the leaked flyer, the rumoured 4.7-inch iPhone 6 will come at CNY 5,288 (roughly Rs. 51,000), while the alleged 5.5-inch model will be available at CNY 6,288 (roughly Rs. 61,000). If true, this would also imply the 4.7-inch iPhone 6 (32GB) is cheaper than the current 4-inch iPhone 5s (16GB) - which costs CNY 5,300.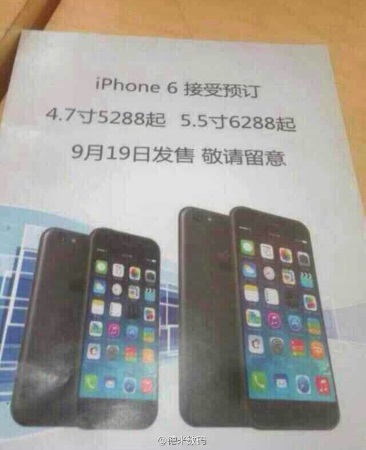 Recent reports, in-line with the current, had suggested the same CNY 5,288 pricing for the unannounced 4.7-inch iPhone 6 (32GB). Meanwhile, the alleged 5.5-inch iPhone 6 (16GB) was said to be priced at CNY 5,998 (roughly Rs. 57,600).
The images of the alleged iPhone 6 on the purported promotional flyer corroborate what's has been widely expected based on earlier leaks, that the next iPhone will come with curved edges and will be a major departure from the company's current industrial design on existing iPhone models. However, it is yet to be seen whether Apple will do away with its current straight-edge design seen on the iPhone 4, iPhone 5 and iPhone 5s.
Notably, the September 19 launch date tipped by the leaked flyer goes well with Apple's traditional start sale strategy of any new iPhone model; which begins on a Friday to capture the weekend crowd. Previous leaks (including a purported internal communication from a German telecom carrier) had indicated a launch date of September 19.
Contradicting the current launch date, an earlier report suggested a new launch date for the next iPhone from Apple, as well as the name of the anticipated larger 5.5-inch iPhone 6 variant - iPhone Air. The report citing industry sources claimed Apple would unveil the iPhone 6 on September 15 (which seemed a little fishy), which falls on a Monday, while retail availability would begin on September 25, which falls on a Thursday.
Last week, amidst reports about mass production of the alleged 4.7-inch successor to the wildly popular iPhone 5 series of smartphones to begin in July, we were treated with a new case listing purportedly tipped the design of the unannounced smaller iPhone 6 in an Amazon online retail listing.