Apple is widely expected to launch its next-generation iPhone devices - rumoured to launch as
iPhone 6
(4.7-inch) and iPhone 6L (5.5-inch) - at an
event on September 9
.
However, one of the biggest mysteries regarding the next generation iPhone has been the screen resolution. Now, Daring Fireball's John Gruber in an in-depth post, which goes in-line with the Cupertino-based company's 300ppi Retina threshold that was first referred to by Steve Jobs at the iPhone 4 launch, has tried to suggest possible screen resolutions for both the 4.7-inch and 5.5-inch versions. Additionally, new reports, contradicting some recent reports, are suggesting that the iPhone 6 might not ship with the anticipated new Lightning Cable with reversible ports.
(Also see: iPhone 6 Display Component Snag Reportedly Disrupts Panel Production)
Gruber (via MacRumors) says Apple's maintaining the '2X' pixel-doubling for its latest Retina displays, and points to a resolution of 750x1334 pixels for the 4.7-inch iPhone 6, translating to a pixel density of 326ppi. Gruber notes, "At 4.7 inches, 1334x750 works perfectly as a new iPhone display, addressing problem 1, showing more content. With point dimensions of 667x375, this display would show 1.38 times more points than the iPhone 5. At 326 pixels-per-inch, everything on screen would remain exactly the same physical size. There would just be 38 percent more room for content."
Meanwhile for the 5.5-inch model, Gruber has claimed a 1242x2208 pixel resolution, translating to a pixel density of 461pp- adding that (3X) 'pixel-tripling' resolution will work better for the larger variant, contradicting previous reports. He details, "Everything works at these dimensions for a 5.5-inch display. With an increase in area of 68 percent and a scaling factor of 1.06, this display would address both reasons why someone might want a very large iPhone: it would show a lot more content, and it would render everything on screen, point-for-point, a little bit bigger. And at 461 pixels-per-inch, everything would be amazingly sharp."
Gruber also points that "Apple has already started encouraging iOS developers to begin using adaptive layout techniques" that were detailed at WWDC.
(Also see: Alleged iPhone 6L and iPhone 6 Rear Panels Compared; 128GB Model Tipped Again)
Last week, a new screen resolution of 828x1472 pixels for the next-generation iPhone 6 was tipped via iOS 8 files inside both the Xcode 6 beta 5 and the Xcode 6 beta 6 SDKs. Previously, it was said that the Cupertino-based company was testing a higher screen resolution of 960x1704 pixels on at least one of the two iPhone models.
In other news, 9to5Mac in a report citing third-party Apple retailer Moca.co has claimed that the rumoured Lightning cable with reversible USB ports might not debut this year. The report notes that Apple has not placed orders for the new reversible cable to its manufacturing partners.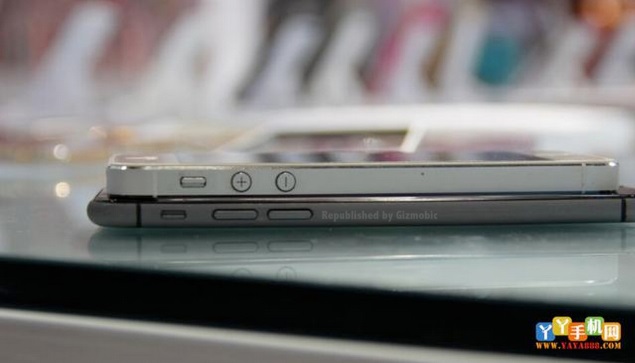 We have also been again treated with new images of the alleged iPhone 6 compared alongside iPhone 5 in a side-by-side comparison. The leaked images show the rumoured 4.7-inch iPhone 6 in space grey colour being compared with the iPhone 5. Notably, one of the leaked images shows the alleged iPhone 6 with protruding camera ring, which goes in-line with a recent leak.
(Also see: With iPhone 6 Launch Imminent, Apple Shares Close at Split-Adjusted High)
Another leak is the latest in-line of several iPhone 6-related schematics leaks, and it is being claimed to indicate that the new motion co-processor on the Apple A8 chip has been codenamed 'Phosphorus'.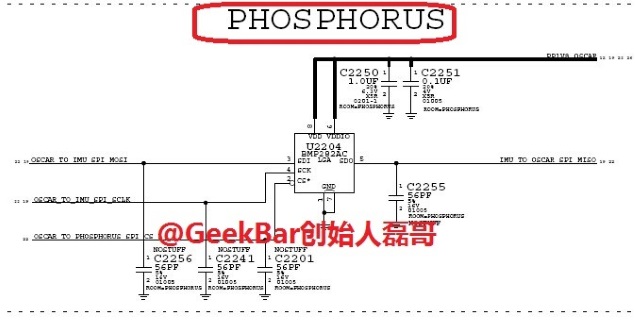 GeekBar has posted the new leaked schematics on Weibo, first spotted by 9to5Mac, and has also claimed that the next generation M7 co-processor will work same as the one seen on the iPhone 5; although with some added functionalities.
(Also see: 68 Million iPhone 6 Units Ordered; TSMC Now Shipping A8 Chips: Reports)
The new M7 chip is expected to communicate with external health and fitness devices without slowing down the main A8 chip of the iPhone. The report clearly notes that the term 'Phosphorus' is an internal codename of the chip and will not be used in marketing related stuff.
(Also see: Apple 'Wrist-Worn' Device Patent Hints at iWatch Gesture Support, and More)
9to5Mac speculates that the additional functionalities of M7 coprocessor might be intended to help the long-rumoured iWatch to send details regarding health updates to a iPhone device.
Apple has been previously rumoured to add new barometer sensor into the handset for measuring temperature, air pressure, and even altitude.
Notably, last week a tipster claimed to have captured prototype designs off computer monitors at Foxconn - one of Apple's biggest suppliers. A singe image contained mentions of the N51, N61 and N56. The first is the iPhone 5s, while the other two are said to be the 4.7-inch (N61)iPhone 6 and 5.5-inch (N56) iPhone. The N56 is said to come in two prototypes, with the first measuring 158.0x77.12x7 mm and weighing of 168.5 grams, while the second measures 158.07x77.79x7.1 mm), and weighs 184.6 grams. The N61 is said to measure 138.14x66.97x6.9mm.