Apple is widely expected to compete in the large-screen smartphone segment with the launch of its next iPhone models, rumoured to
come in two screen sizes
- 4.7-inch and 5.5-inch.
Based on earlier leaks, we have been tipped about the design, screen sizes, and chipset of the handsets, however latest leak - if it turns out to be true - will indicate a major departure from the company's design for existing iPhone models.
Uswitch claims to have obtained a couple of images of the alleged iPhone 6 rear shells, tipping that the Apple logo placed at the back panel might light up for notifications. While we have seen Apple logos that light up on other Apple devices, such as the MacBook Air and MacBook Pro laptops, those rear logos light up when the system is turned on, and not for notifications.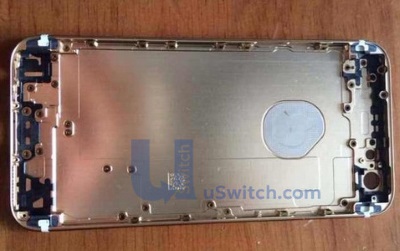 Notably, Uswitch received the images courtesy Sonny Dickson, the Australian teen who made a name for himself by repeatedly leaking images of Apple's iPhone 5s before its release last year.
One of the leaked images showcases the interior of the alleged iPhone 6 rear shell, with the Apple logo covered with a translucent plastic material meant to allow the light to pass through. If the rear shell seen in the image is real, it will replace the iPhone handsets' traditional solid block cut-outs, also seen in some recent leaks. Meanwhile, the other leaked image of the alleged iPhone 6 rear shell indicates that the handset will take design cues from Apple's current generation iPod touch with curved edges.
Earlier on Tuesday, a report citing people familiar with the matter suggested that the Cupertino based giant has asked suppliers to manufacture between 70 million and 80 million of its two forthcoming large-screen iPhone models by the end of the year, which is actually its largest initial production run of iPhone handsets.
On Monday, a new report again tipped the next iPhone 6's September 19 launch date alongside purported pricing of both the screen-size variants, which was thanks to a leaked promotional flyer from China.
We remind readers however, that nothing is official yet, and that all such leaks must be taken with a pinch of salt.