As the expected release of the next-generation iPhone nears, we are seeing more and more leaks each day. On Tuesday, new images of the alleged front and rear panels of the iPhone 6 (which is widely expected to come in 4.7-inch and 5.5-inch versions) appeared online, while a report pointed to lines of SDK code that indicated a new 828x1472 pixel resolution.
The alleged front and rear panel iPhone 6 images were posted by Feld & Volk, which makes customised luxury variants of the iPhone and iPad devices.
First spotted by MacRumors, the alleged front and rear panel iPhone 6 images of the anticipated 4.7-inch variant are in-line with what has been widely expected based on earlier leaks, with rounded corners and buttons indicating the iPhone 6 will take design cues from Apple's current generation iPod touch.
Further, the alleged iPhone 6 images again show the power button positioned on the right panel of the device, instead of on the top panel seen on existing iPhone models. Also seen are the new speaker holes at the bottom of the phone, alongside the Lightning port and 3.5mm audio jack. MacRumors also refers to an unlisted Feld & Volk image of the rear shell depicting the a 'round True Tone flash', and 'embedded Apple logo'.
A new screen resolution of 828x1472 pixels for the next-generation iPhone 6 has been tipped via iOS 8 files inside both the Xcode 6 beta 5 and the latest Xcode 6 beta 6 SDKs.
9to5mac notes the mention of a screen resolution of 414x736 pixels (16:9) was found inside the iOS 8's Springboard app, which refers to the iPhone home screen.
This particular file outlines for the system where icons, by default, will be placed on an iPhone's Home screen. This particular file, which was added in Xcode 6 beta 5 earlier this month and still exists in yesterday's Xcode 6 beta 6, is optimized for an iPhone with a resolution of 414 (width) x 736 (height). The iPhone SDK parses hardware resolutions via "point values," so the actual "Retina" resolution is in fact double (or potentially triple) whatever numbers the SDK presents.
Considering that iOS devices currently renders texts, images and other elements at '2X' the resolution in the SDK, the report speculates that Apple might debut the new iPhone 6 with 828x1472 pixels screen resolution.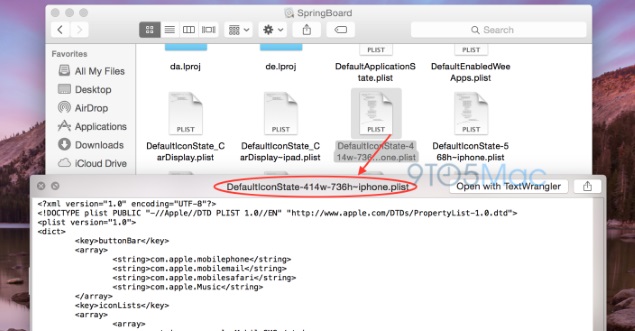 If true, this resolution on the expected 4.7-inch display would give a pixel density of 359ppi, and on the expected 5.5-inch display a pixel density of 307ppi. As 9to5Mac notes, this fits in with Apple's 300ppi Retina threshold, first mentioned by Steve Jobs at the iPhone 4 launch. It would also mean more real estate, which as the report notes, translates to roughly two additional rows and 1 additional column at current iOS icon sizes.
A '3X' 'pixel-tripling' resolution, while previously considered possible, is now being considered unlikely to be implemented on the iPhone 6 - as it would indicate what's being called an unfeasible 1242x2208 pixel resolution in terms of battery life and developer adoption.
Further, the report notes the 2X Retina 'pixel-doubling' resolution implementation by Apple in previous generation iPhone devices, and the corresponding SDK values. The iPhone 5, iPhone 5c and iPhone 5s - all sport 4-inch (640x1136 pixel) displays, however, the SDK files only presented the half value - 320x568 pixels.
Previously, it was said that the Cupertino-based company was testing a higher screen resolution of 960x1704 pixels on at least one of the two iPhone models. This may still be implemented in the larger 5.5-inch iPhone 6 variant, and is in line with the current 16:9 aspect ratio (as is the newly-rumoured 828x1472 pixel resolution).
Of course, all such leaks must be taken with a pinch of salt, from alleged iPhone 6 component images to extrapolations from lines of SDK code, and much will become clear once Apple officially unveils its next iPhone. The Cupertino giant is expected to do so at a September 9 event.