Thanks to the rumours that Apple will release two large screen iPhone variants in September, the iPhone 6 seems to be already generating a huge level of consumer interest.
According to a survey from 451 Research's ChangeWave, the desire of buying the next-generation iPhone has reached new heights. For the yet-to-be-announced iPhone 6, 14 percent of the consumers are "very likely" to buy the device, while 26 percent said they were "somewhat likely" to purchase it.
The survey, which was answered by over 4,000 mostly North American respondents, asked customer if they would buy an iPhone 6 based on the speculations, such as a larger display, gesture control, an updated iOS, an even faster processor than the iPhone 5s, and a starting price of $199 (with 2-year contract).
As noted by 451 Research, the level of interest is up from the last surveys for the iPhone 5s and a March 2012 survey for the iPhone 5.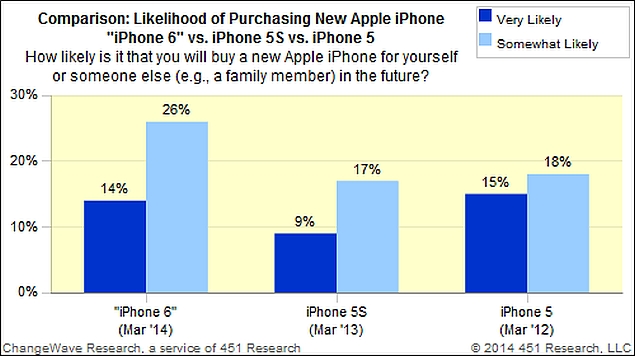 "This is the highest level of demand for an unannounced Apple model in a ChangeWave survey - stronger than we've seen in previous years for the iPhone 5S and iPhone 5 models prior to their announcements," said Andy Golub of 451 Research. "Speculation over a larger screen iPhone is clearly striking a chord with consumers."
451 Research's ChangeWave surveys have been tracking consumer interest in larger-screen smartphones since 2012 - and throughout this time it has seen a growing interest. In the latest survey, nearly half (47%) of planned smartphone buyers say they're most interested in buying a 5-inch screen or larger - the highest level since the question was added to the survey.
While the survey suggests that consumers are really digging the idea of Apple's next large-screen iPhone, it is likely to catch-up to the
Samsung Galaxy S5
buying interest on the release day. The same company found greater consumer interest in Galaxy S5 than any other S-series Galaxy smartphone.