Apple has started offering its iPhone 6 and iPhone 6 Plus as SIM-free (also known as contract-free) and unlocked options in the US.
Consumers in the US can now buy the SIM-free iPhone 6 and iPhone 6 Plus from physical stores and online stores including Apple Store. The iPhone 6 16GB model is now available at $649 (Rs. 41,200 approximately), while the iPhone 6 Plus 16GB has been priced at $749 (Rs. 47,600 approximately).
The iPhone 6 64GB and 128GB have been priced at $749 (Rs. 47,600 approximately) and $849 (Rs. 53,800 approximately) respectively. Meanwhile, the iPhone 6 Plus will come at $849 (Rs. 53,847 approximately) for the 64GB variant, and $949 (Rs. 60,180 approximately) for the 128GB variant.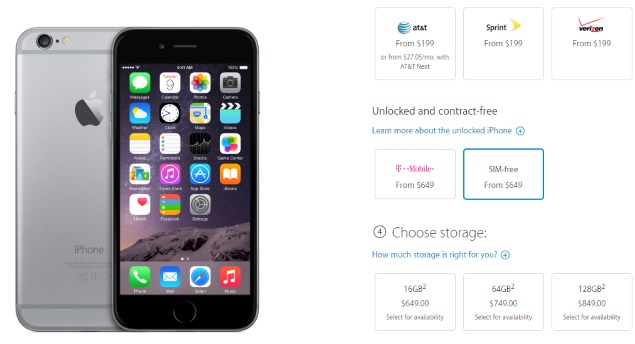 9to5mac reports that the unlocked iPhone 6 ships in 3 to 5 business days. "Unlocked iPhones can be activated for use any carrier, AT&T, Sprint, Verizon or T-Mobile", it adds.
Apple usually launches the SIM-free model of a new iPhone by the end of the year; though the delay in the launch of unlocked iPhone 6 and iPhone 6 Plus can be attributed to the strong demand of both the iPhone models.
Reports suggested that Apple had to adjust the production ratio in favour of the iPhone 6 Plus, as it saw much higher demand than anticipated for the large iPhone models.
The Cupertino based giant had announced that it received a record 4 million advance orders for the both new iPhone models in the first 24 hours of the US pre-orders opening.
To recall, the iPhone 6 has a new 4.7-inch 750x1334-pixel screen, while the iPhone 6 Plus's screen measures 5.5 inches and has a resolution of 1080x1920 pixels. The iPhone 6 and iPhone 6 Plus are 6.9 and 7.1mm thick respectively. Both phones have been upgraded with high-speed Wi-Fi 802.11ac support and support the TD 2300 LTE band used in India. iPhone 6 and iPhone 6 Plus have an 8-megapixel rear camera and a 1.2-megapixel front camera, with improved sensors when compared with the iPhone 5s. The phones feature the new Apple A8 processor and a motion co-processor labelled M8. Apple promises that both devices will provide better battery life than the iPhone 5s.